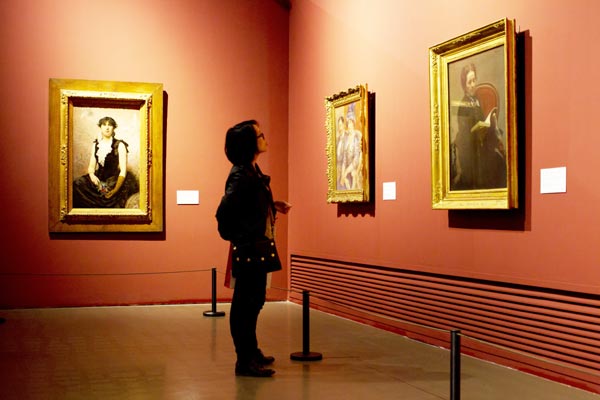 The oil paintings from Musee d'Orsay of Paris present the artistic trend developed from realism to naturalism during the period from the mid-1800s to the early 20th century. They feature the countryside and farmers' lives, reflecting artists' response to modernization and industrialization. Photos by Gao Erqiang / China Daily
China Art Museum Shanghai's opening exhibition is a blockbuster featuring major 19th and 20th century French artists. Zhang Kun reports.
Related: Erhu star plays folk tunes for the future
China Art Museum Shanghai is holding its first themed exhibition, showcasing French artists from the mid-1800s to the early 20th century.
Eighty-seven oil paintings from Musee d'Orsay of Paris are on display at the museum, which served as the China Pavilion during World Expo 2010.
This is the most important exhibition since China Art Museum Shanghai opened to the public on Oct 1, taking the largest exhibition hall in the museum.
The show is ongoing until the end of February, which is longer than for most loan exhibitions, comments executive director of the museum Li Lei.
While many of the paintings are shown in China for the first time, in 2004 the Musee d'Orsay presented its first collection to Shanghai Art Museum at its former site on Nanjing West Road, which was a hugely popular exhibition.
For the latest exhibition, China Art Museum Shanghai has put a cap on the number of visitors - no more than 3,000 every day, in order to ensure everyone can get a good look at the works.
The most renowned paintings include The Gleaners by Francois Millet (1814-75), depicting three women farming; and The Source by Gustave Courbet (1819-77), of the bare back of a woman in spring.
"The works were carefully selected by curators from China and France," says Shi Dawei, chairman of the city's association of writers and artists.
The show is divided into eight parts.
"There are sections that highlight individual artists, and sections that feature the development of painting from the late 19th to the early 20th century."
An artist, Shi, his friends and colleagues in Shanghai, sketched the paintings when masterpieces from France were exhibited in the city for the first time in 1978.
"We waited for hours to see the artworks and sketched from the originals," he recalls.