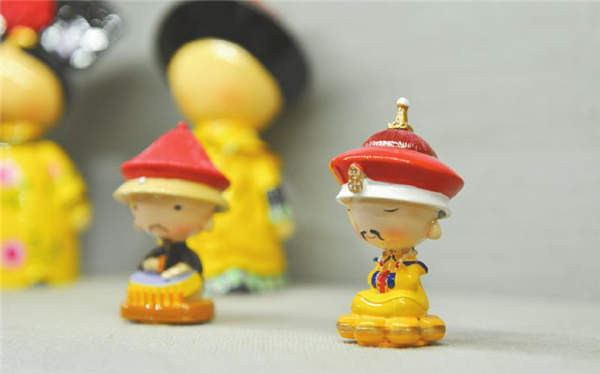 Creative cultural products from the Palace Museum [Photo/West China Metropolis Daily]
The 7th Museums and Relevant Products and Technologies Exposition (MPT Expo) concluded on September 19 in Chengdu, having received 80,000 visitors and signed nearly 100 cooperative proposals.
The expo had different exhibition areas showing museums' collections, cultural relic protection and restoration technology, creative cultural products, as well as showcase area for foreign museums and cultural institutions. 3D printing technology, VR and AR technologies and robot museum guides were also presented at the expo.
"Qianlong wind" sweeps Chengdu
During the expo, a special exhibition featuring Qianlong Emperor of the Qing Dynasty (1644-1911) was staged in Chengdu Museum, with a reproduction of the layout of the Palace Museum, presenting daily use items of the emperor. Among the exhibits, the Jin Ou Yong Gu Bei, a wine cup made of gold and decorated with gems was on display outside the Palace Museum for the first time. The painting God of Longevity by Emperor Qianlong and many of his handwritten manuscripts were on display to the public for the first time. To view these precious items, Chengdu citizens lined up at the door of the museum early in the morning.