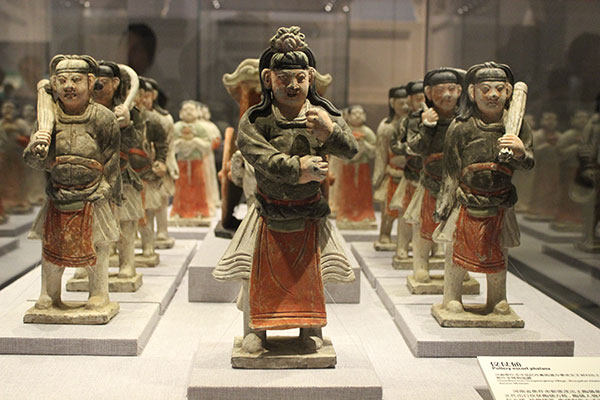 The Capital Cities of the Yuan Dynasty retraces Beijing's development to the present day.[Photo by Wang Kaihao/China Daily]
Many people take Beijing's metropolitan status for granted.
An ongoing exhibition at the city's Capital Museum examines the process by which it became the national capital.
The Capital Cities of the Yuan Dynasty, which runs through December, displays 160 sets of relics from the Capital Museum and 14 other museums and research institutions across northern China.
It marks the 740th anniversary of construction of Khanbaliq, the predecessor of today's Beijing, which was also known as Dadu (meaning "the great capital"). It was one of the capitals of the Yuan Dynasty (1271-1368), which was founded by Mongol ruler Kublai Khan five years later.
Because the empire was based upon the nomadic life-style of the grasslands, Yuan rulers established two capitals. The other is Xanadu or Shangdu (the upper capital) in what is today the Inner Mongolia autonomous region's Xilin Gol League.
According to the exhibition's curator, Tan Xiaoling, emperors headed to Xanadu in March or April for the sum-mer. They returned to Beijing in August or September.
The dynasty planned to build a third capital, Zhongdu (the middle capital), in today's Zhangbei county, Hebei province. But construction was suspended.
Cultural relics revealing the vicissitudes of all three capitals are juxtaposed at the exhibition.
"We want to show the dynasty's history and customs from a comprehensive perspective, from urban construction and the rulers' palace lives to various aspects of ordinary people's daily lives," says Tan.
"This is an unprecedented event to examine the Yuan's history by bringing so many precious items together. It'd be boring to simply introduce the three cities' history. That's why we focus on human stories. No matter how a city flourishes, its people are most important."
This is why the exhibition highlights Liu Bingzhong, the official who led Khanbaliq's construction, and Zhang Hongfan, a general once stationed in the city.
Displays include porcelain, textiles, gold artifacts, construction materials and figurines.
Many items have never been exhibited publicly. Others are familiar to those with a basic knowledge of China's fine art history.