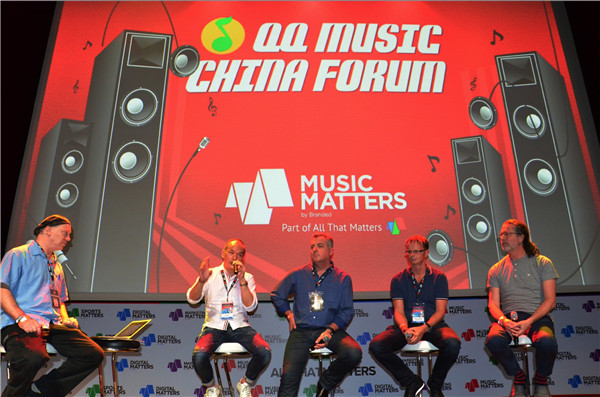 Andy Ng (second from left), general manager of QQ Music, speaks at the recent forum. [Photo provided to China Daily]
The Chinese music market, once seen as chaotic, is now viewed as having enormous untapped potential, thanks to the country's online user base of 650million people and a growing number of licensed digital services.
During the recent Music Matters 2016 event, which was held from Sept 12 to 15 in Singapore, the Chinese music market was in focus at the QQ Music China Forum: The World Turns to China.
Now in its 11th year, Music Matters, with live performances and forums, is a global platform for the music industry in the Asia-Pacific and a gateway for budding artists.
Speaking at the event, Andy Ng, general manager of QQ Music-run by China's internet giant, Tencent-said that there were about 700 million music lovers in China now, and for QQ Music, the number of monthly active users was about 400million,which comprises nearly 90 percent of the country's online music market.