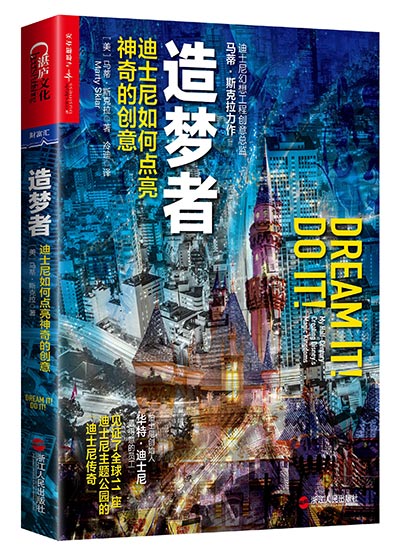 Book cover of Dream It! Do It!. [Photo provided to China Daily]
As the Chinese visitors enjoys the newly opened Disney's magic kingdom in Shanghai, Chinese edition of Dream It! Do It!, a book on the behind-the-scene history of the making of those theme parks, was released by Cheers Publishing in June.
Written by Marty Sklar, a former "Imagineer" who implemented creative ideas into practical form in Disney, the book is an retrospective account of his 54 years' work in the company.
"The book was written originally while Shanghai Disney Resort was beginning to be designed by the Walt Disney Imagineers," writes Sklar in his preface to the Chinese edition. "There are many lessons on these pages that were applied to this grand project by the Disney Imagineers."
The English edition of the book was published in 2013.
Being one of the oldest employees, the 82-year-old Sklar witnessed the opening of 12 Disney parks all over the world, and presented the opening of the park in Shanghai last month.
Sklar told China Business News that he thinks Disneyland in Shanghai is the best theme park ever with great efforts made on details and storytelling.
Nearly 1 million people have already visited the Disneyland Shanghai since its opening on June 16.
Related:
Top 10 classic Disney animated films
Disney visitors soak up a new experience