Disney's Shanghai park poised to lure millions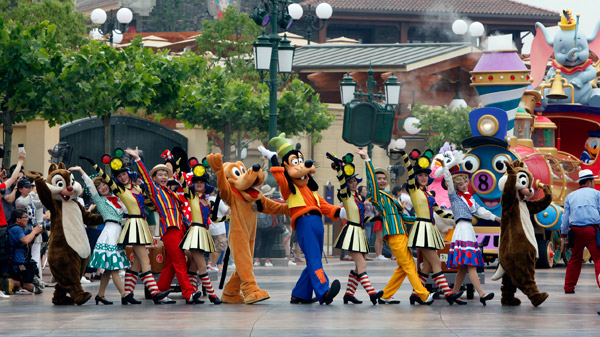 A cast of colorful characters takes part in a parade at the Shanghai Disney Resort on Wednesday, a day ahead of its grand opening. Gao Erqiang / China Daily
Shanghai Disney Resort, which opens on Thursday, will attract up to 50 million visitors every year, according to analysts.
The influx will result in annual sales revenue of 40 billion yuan ($6.06 billion), the analysts from Changjiang Securities wrote in a report.
Bob Iger, CEO of the Walt Disney Co
According to the Shanghai Municipal People's Government Research Center, the $5.5 billion theme park is expected to contribute about 0.8 percent of the city's GDP this year, which is estimated to rise by 6.5 percent from 2.5 trillion yuan in 2015.
Walt Disney Co Chief Executive Officer Bob Iger said on Wednesday that Disney's first theme park on the Chinese mainland and the sixth worldwide is designed to be "authentically Disney" but also "distinctly Chinese".
Iger said it is important that the Shanghai park offers "authentic Disney" but ensures that this is done in a way that respects the local culture and creates a sense of ownership in terms of language, food and entertainment.
He cited the example of Chinese acrobats performing in the Disney musical Tarzan: Call of the Jungle and the first Chinese production of the Broadway musical The Lion King, which premiered at the Walt Disney Grand Theatre at the new park on Tuesday night.
Iger said the new park has enormous potential, as it had received more than 600,000 visitors during a month's trial period ahead of Thursday's grand opening.
"We have plenty of space to expand and we will do that sooner rather than later," Iger said.
The 7 square kilometers that the resort occupies has allowed it to invest in more attractions, including additional facilities.
Teng Bingsheng, associate dean and associate professor of strategic management at Cheung Kong Graduate School of Business, said Chinese consumers want the best entertainment products, and companies such as Disney have a head start in this regard.
Kelly Ryner, president of Thinkwell Asia, a US-based theme park design company, said, "China is a huge part of this modern world, and it makes complete sense to import quality entertainment.
"The quality of this park will raise the bar and encourage local parks to become better and stronger in their own ways."
Addressing the possibility of long waits for rides at the Shanghai park, she said slow lines during a soft opening are to be expected at any park and during major holiday periods.
Contact the writer at wangzhuoqiong@chinadaily.com.cn