Performers wanted for Shanghai Disney park
Updated: 2016-06-02
( Agencies )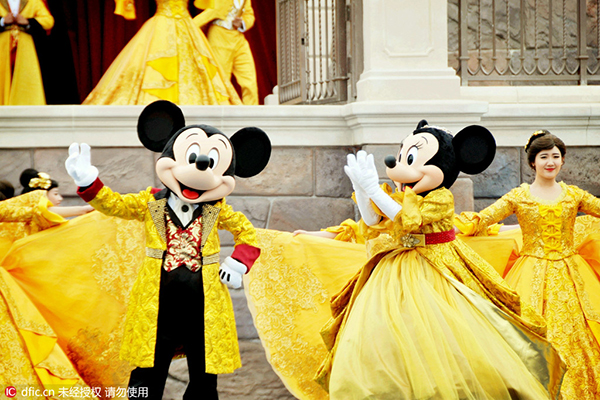 Entertainers dressed in Mickey Mouse and Minnie Mouse costumes perform at the Shanghai Disney Resort May 16, 2016. [Photo/IC]
When Niu Tianlong graduated from the Shanghai University of Sport last year, the 22-year-old planned to pursue his passion for a full-contact, Chinese martial art known as wushu.
Then The Walt Disney Co came calling. Nowadays, he's lacing up his knee-high boots, donning pantaloons and a blue bandanna, and rehearsing a sword-fighting scene ahead of the June 16 opening of the $5.5-billion Shanghai Disney theme park.
"The physical part is not tough at all compared with wushu, but the performance, the expressions on my face and acting-that's very challenging," said Niu, who has been hired to play a swashbuckler and entertain park visitors between attractions.
In Disney's effort to expand its signature character-based entertainment to China, figuring out millions of small details such as the Mandarin translation for hakuna matata has been the least of its worries. Instead, managing an epic, year-long casting for the 1,000 performers for marquee musicals such as The Lion King and all manner of other acts that make the Magic Kingdom such a powerful draw, has proved more challenging.