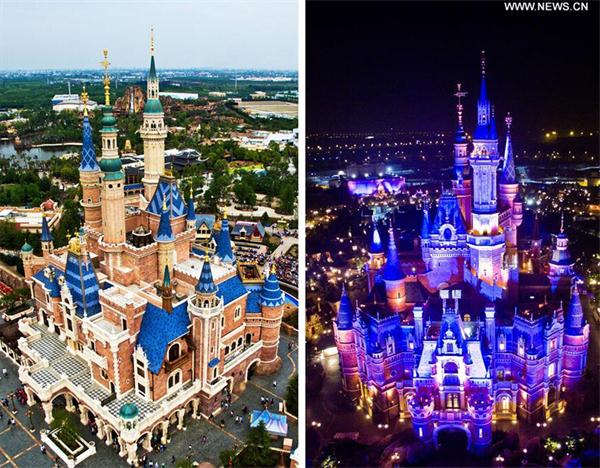 Combo photo shows the day view (Left, May 18, 2016) and lighting view (May 30, 2016) of Shanghai Disney Resort in Shanghai, East China. Shanghai Disney Resort, Asia's biggest Disneyland, will open to public on June 16, 2016. [Photo/Xinhua]
"Disney's one tiger is no match for Wanda's pack of wolves -- Shanghai has one Disney, while Wanda, across China, will open 15 to 20," Wang Jianlin, chairman of Wanda Group Co., said in an interview with CCTV on Sunday.
Wanda Group this weekend opened its latest theme park in Nanchang, Jiangxi province immediately stirred up the rivalry with Disney, which will open its first theme park in mainland China on June 16.
Wang, ranked as the richest man in Asia by Forbes in 2015, has spoken openly about Wanda Group's mission to fend off Disney in the Chinese market and become an entertainment empire recognized around the world.
Though Wang has jeered at Disney before, his latest salvo signals an escalation in the rivalry between the world's biggest entertainment company and China's largest.
As one of the leading players in Chinese firms' globalization push, Wanda has invested heavily in the film and tourism businesses.
"We want to build a model for Chinese private enterprise, and we want to establish a global brand for Chinese firms," Wang said in remarks at last Saturday's ceremony celebrating the new park's opening. (Q: I added 'celebrating the new park's opening - this is correct correct? )
Wang's remarks won many Chinese netizens' support. "It's a good chance to promote Chinese culture to the world and for Chinese people to regain confidence." wrote one user on China's Twitter-like platform, Sina Weibo.
"The battle of the theme parks also demonstrates the growing importance of China's soft power. China has evolved quickly from a nation of farmers and factory workers to one of the most important consumer markets," another commented on the ifeng website.
However, some netizens are unsure about whether Wanda will make good on its promise.
"I have no doubt of Wanda's ambition to build 20 Wanda cultural tourism cities in five years," wrote one user on Weibo. "But to surpass Disney, Wanda needs better ideas and culture."
"Mickey Mouse brings happiness to every child from all over the world," wrote another. "Now Disneyland opens in China, but you brag about your moneymaking abilities. It's ridiculous."