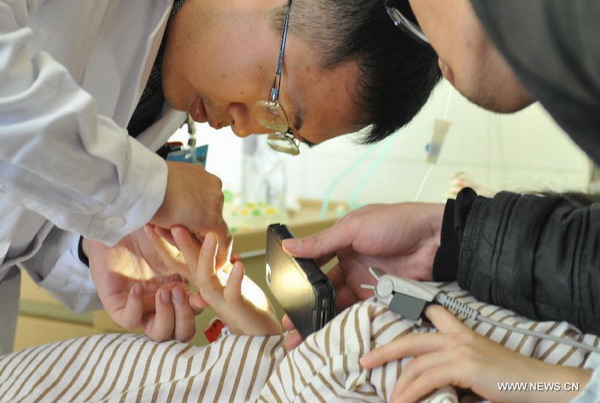 A doctor removes glass from a victim's hand who is injured of a bus fire at the No.1 Hospital in Xiamen,Southeast China's Fujian Province, Jan 15, 2015.[Photo/Xinhua]
Major hospitals in South China's Guangdong province are being encouraged to cancel their outpatient services step by step, according to a plan recently issued by the provincial government aimed at streamlining medical treatment in the province. Such a reform should only proceed when there are more community hospitals, Beijing News said on Thursday.
In general, Guangdong's determination to streamline the functions of all hospitals in the province is in line with nationwide healthcare modernization, which aims to help more patients get properly treated.
In fact, many Chinese citizens' limited access to the quality medical services offered by the leading hospitals has a lot to do with the inefficient use of community hospitals. In other words, the obsession with big hospitals would not have existed if they could receive basic community medical services in time.
It is possible that some people prefer the doctors in the major hospitals to those in community hospitals, believing that the latter may misdiagnose their illnesses, which is hardly the case. Although equipped with inferior facilities and limited expertise, community doctors are not unprofessional. On the contrary, they are easier to approach for help and well qualified to make a preliminary diagnosis of a variety of diseases.
The truth is, the underrated role of community hospitals means the doctors who work in them receive poorer pay and have limited career choices, which has discouraged many doctors from working as community doctors.
Putting an end to all the outpatient services offered by big hospitals, therefore, may not be a good idea, given the notable shortage of community doctors.
More importantly, as many leading comprehensive hospitals have finished their expansion in recent years, their newly built facilities are likely to be left unused if the number of outpatients dwindles. This might also deal a blow to their total revenues, especially those who receive tens of thousands of outpatients every day.
Delegating outpatient services to community hospitals, of course, makes perfect sense and should be encouraged. But local authorities should not rush to press ahead with the reform, because patients are yet to be fully convinced by community medical services.