Disney-themed stamp set to be released at Shanghai Disney grand opening
Updated: 2016-06-03
( chinadaily.com.cn )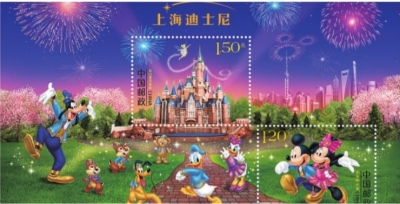 The Shanghai Disney-themed stamp set will be released on June 16, the opening day of the Shanghai Disney Resort. [Photo provided to chinadaily.com.cn]
A set of Disney-themed stamps will be released on June 16 to mark the opening day of Shanghai Disney Resort.
The set includes two stamps, one featuring iconic Disney characters Mickey and Minnie (valued at 1.2 yuan) and the other showing Disney castle (valued at 1.5 yuan).
The stamp includes Chinese elements, including a mandarin collar and peony patterns on Mickey's and Minnie's clothes.
The stamp was jointly produced by China Post, Shanghai Shendi (Group) Co and Shanghai Disney Resort.
Chen Bichang, general manager of Shanghai Post, said that to increase the value and appreciation of the collection, special ink technology was used in the printed process to give the stars a sparkle.
Fan Xiping, chairman of Shanghai Shendi (Group) Co, said that the stamp is a product of Sino-US cooperation and will form an integral part of celebrations for the Shanghai Disney opening.
Shanghai Disney Resort began testing on May 7. By May 30, it had handled more than 300,000 visitors.