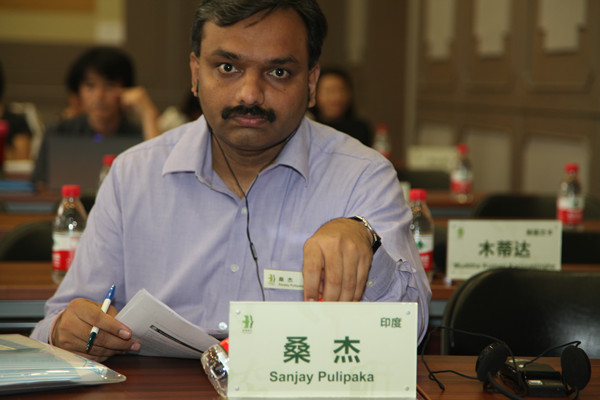 Sanjay Pulipaka attends a lecture during the 2016 Visiting Program for Young Sinologists. [Photo/Chinaculture.org]
As a kid, I remember watching a movie on Dr. Dwarkanath Kotnis on state-run television network. While I did not fully comprehend the movie, the memory of an Indian rendering service in conflict situations lingered in my memory for a long time.
It is the work of people such as Rabindranath Tagore and Dr Kotnis that contributed to better understanding and solidarity between the two countries. Not surprisingly when Indian leaders, before and after independence, articulated their views about "Asian Solidarity", China figured prominently as a fellow traveler in creating a peaceful Asia. Moreover, India was the first non-socialist country to recognize and establish diplomatic relations with the
Peoples Republic of China in April 1950 and the two countries signed the Panchsheel, or the Five Principles of Peaceful Co-existence in 1954. Sadly, there are some bad memories as well. For many Indians, the border dispute and the defeat in the 1962 war continue to impact the perceptions about China.
Today, China invokes both admiration as well as concern.
China commands immense respect, among young Indians, for the economic growth it has achieved. India and China shared more or less similar economic and human development indicators in 1950s. However, today China is the second largest economy with more than $ 10 trillion economy, sustained high economic growth rates and human developmental indicators much better than India.
China is not just known for its silk products but also for it electronic goods, heavy machinery and its capacity to operationalise massive infrastructure projects quickly.
It should be noted that China has a long history of infrastructure development that one can see at the Great Wall of China. Recently, I had an opportunity to witness the recent as well as ancient infrastructure achievements in China.
China is now deploying its capacity to build infrastructure across the Asian continent under One Belt One Road. Not surprisingly, many young people wish that even India will replicate high economic growth rates and implement big infrastructure projects in their country within the existing political frameworks.
Simultaneously, there is also an apprehension if the Indian industry can survive the competition from Chinese industry. Further, the reports pertaining to boundary dispute and movement of troops tend to generate concern in India.
However, I must hasten to add that "concern" does not imply "hatred" or "animosity." On the other hand, there is a deep reservoir of goodwill for China in India. If the political concerns can be addressed peacefully then both countries will benefit immensely from enhanced engagement. So what are the next steps?
I my opinion the following measures will go a long way in improving the bilateral relationship: There needs to be greater interaction among think-tanks/educational institutions and collaborative research initiatives; There is need for enhanced economic engagement which will result in equitable outcomes;
There should be greater people-to-people contact. During my recent visit to China, many people often walked up to me to ask "Indu Ren"? And in my broken Chinese I managed to state: "Wo shi Indu ren." These interactions suggest that there is genuine eagerness among people to know each other more.
Related:
The story of China and I: Canadian Sinologist
The fourth Visiting Program for Young Sinologists kicks off