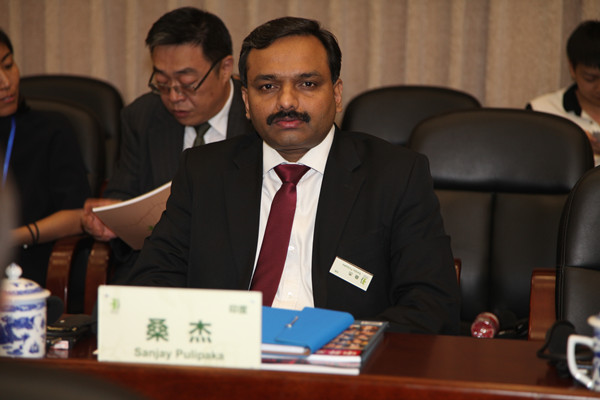 Sanjay Pulipaka attends the opening ceremony of the 2016 Visiting Program for Young Sinologists at the National Library of China on July 6, 2016. [Photo/Chinaculture.org]
Sanjay Pulipaka is a senior consultant of the East-Asian research program with the Indian Council for Research on International Economic Relations. His research areas include India's foreign policy and his country's relationship with China. He shared his China story and views on the two countries' relationship as he took part in the 2016 Visiting Program for Young Sinologists in Beijing.
It was in school when I heard of China for the first time. Our school text books had references about Chinese travelers visiting India. I used to wonder as to how these travelers traversed mighty mountains – the Himalayas.
Little did I know that some of these travelers came into India via Central Asia and Afghanistan. Buddhism also travelled from India to China and there was movement of scholars and pilgrims such as Fa-Hein.
This movement of people resulted in enrichment of philosophies and creation of knowledge systems between the two countries. Further, they established civilization connections between the two and such connections continue to impact the interactions between these two countries.
During India's freedom struggle many Indian leaders looked at China as important country to collaborate in the fight against European colonialism in Asia.
Noted poet Rabindranath Tagore visited China and through his writings China became an intimate cultural space for many Indians. If one visits Visva-Bharati, Santiniketan, one can see the Cheena Bhavana (Institute of Chinese Language and Culture), a physical manifestation of Tagore's interest in China.