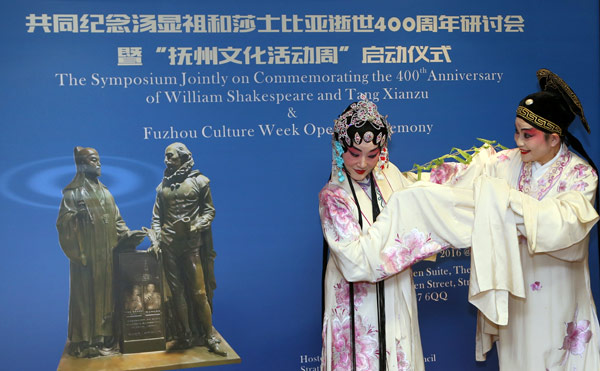 The Symposium Jointly on Commemorating the 400th Anniversary of William Shakespeare and Tang Xianzu was held at the town of Stratford-on-Avon in Britain, April 22. [Photo/Xinhua]
The town of Stratford-on-Avon in Britain and Fuzhou city in China have signed an agreement to become sister cities on April 22, as the hometowns of two great playwrights William Shakespeare and Tang Xianzu mark the 400th anniversary of their deaths.
Fuzhou, hometown of the renowned Chinese playwright Tang Xianzu in Jiangxi province, donated a sculpture of Shakespeare and Tang to the Shakespeare Birthplace Trust, while another replica of the sculpture will be placed in a museum in Fuzhou.
"Today's event is particularly pertinent as the written work of these two literary giants has survived for over 400 years and is both loved and popular," said Chris Saint, head of the Council of Stratford-on-Avon District.
"We know that Chinese people regard Tang as their Shakespeare. We are proud of our international label as the home of the world's greatest playwright," he added.
"This is the first time I'm aware that we have a formal cultural link with China, what a wonderful opportunity we got," he told Xinhua, adding that he would like to read more of Tang Xianzu's works and expects further events to promote cultural exchange to be held in the future between the two countries.
Fuzhou is home to memorial halls, museums and theaters dedicated to Tang, and events are held every year celebrating the playwright.