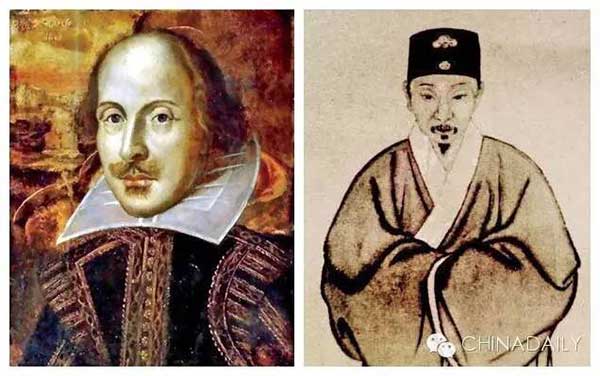 Both William Shakespeare and Tang Xianzu were pioneers in using dreams as a vehicle to explore alternative aspects of the human psyche which, in both their cases, was unique at the time.[Photo/chinadaily.com.cn]
Britons will soon celebrate the 400th anniversary of the death of William Shakespeare this week across Britain, while a Chinese playwright Tang Xianzu who died in the same year, will "travel" to the bard's hometown Stratford-upon-Avon to "meet" his counterpart.
To commemorate the 400th anniversary of the deaths of the two great playwrights, a series of events, including seminars, forums and performances, have been held in the two countries this year.
A highlight of those spectacle events through this year will be a project: A Midsummer Night's DEARMING Under the Southern Bough, conducted by the University of Leeds and the University of International Business and Economics, with Chinese students performing Shakespeare's A Midsummer Night's Dream, while British students will act Tang Xianzu's Dreaming Under the Southern Bough.
Li Ruru, professor of Chinese Theater Studies at the University of Leeds initiated a range of events of Shakespeare and Tang Xianzu in 2014. She and her students who were selected to play Tang's work are now preparing their drama which will be shown in second half of this year.
"All the British students have never heard about Tang Xianzu before we launched the project, however, they have a common interest of loving dramas. Therefore, dramas become the bridge between British and Chinese young people, they could understand each other's history and culture through dramas," said Li.
Earlier in March, the University of Leeds also invited a Chinese expert of Tang Xianzu's works, Professor Zou Yuanjiang, to give lectures about Tang Xianzu's works at several universities in Britain. Most of students who took part in the lectures learnt Tang Xianzu and his works for the first time.