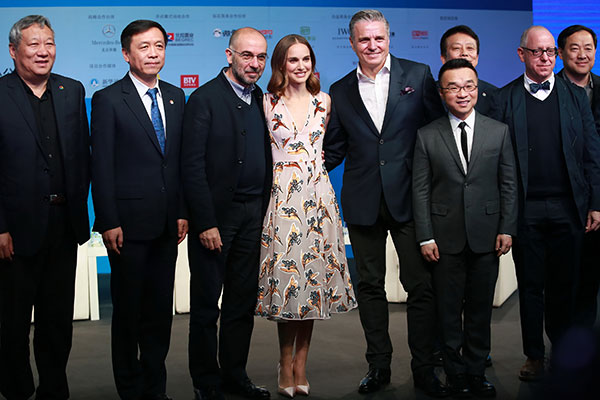 Directors and producers gather at the Sino-Foregin Co-production Forum of the 6th Beijing International Film Festival on April 17, 2016. Chinese director Huang Jianxin (second from left), Italian director Giuseppe Tornatore (third from left), American directress Natalie Portman, American producer Iain Smith (fifth from left), American director Xu Chengyi (sixth from left, front), James Schamus (second from right).  [Photo/VCG]
In 2011, when the Beijing International Film Festival had its inaugural year, China's annual domestic box office number was at about 13 billion yuan (about $2 billion). Now, six years later, the number has more than tripled reaching 44 billion yuan. This phenomenon came as no surprise to movie industry heavyweights.
In fact, Bona Film CEO Yu Dong says China's industry is only beginning to thrive.
"The growing momentum is going to last for at least a decade," said Yu during the Sino-Foreign Co-production Forum on Sunday.
According to Yu, the abundant flow of capital will continue to thrive in the movie industry because it's a group of young entrepreneurs and creative investors who are daring to take risks.
"China's movie investors are quite different from those of the west. For example, in Hollywood, professional managers are holding on to super hero movie sequels therefore reluctant to invest in new ideas. China's investors look for originality and novel ideas," Yu said.
"In five or eight years, the number of movie screens in China, which now stands at 35,000, might surpass that of America, which currently holds 39,000."
Since 2012, China's film market has been witnessing a shift of focus. Instead of blindly going after foreign blockbusters, the audiences are spending on domestic hits.
In 2011, Transformers 3 topped all other movies in China when it hit roughly 1.1 billion yuan (about $15 million) at the box office. This year, Stephen Chow's The Mermaid grossed 3.3 billion yuan.
Chinese film director Huang Jianxin said, "In the late 90s, Chinese film directors and producers were pressing to enter the international market with commercial Kungfu films. But that idea went nowhere. And then they started to look back on our own culture, digging on our own stories. Now we have our own box office hits."
Support from robust investment in the movie industry also brought changes to Sino-foreign film productions.
"First we were seeking funds from abroad. Then we invited the funds from abroad. Now we are investing abroad. It changes the way the story is told."
The capital is cashing in so fast that some young Asian directors are seeking co-production opportunities in China. But industry veterans are suggesting China should focus more on its own narration.
British film producer Iain Smith said, "China is now at a very special stage. The country might even build a so-called 'Chinese Hollywood'. But it needs to keen first on developing its domestic films. Improve your own way of telling stories, that's the way to hit the overseas market."
Related:
Stars gather at the 6th Beijing International Film Festival
Special coverage on the 6th Beijing International Film Festival