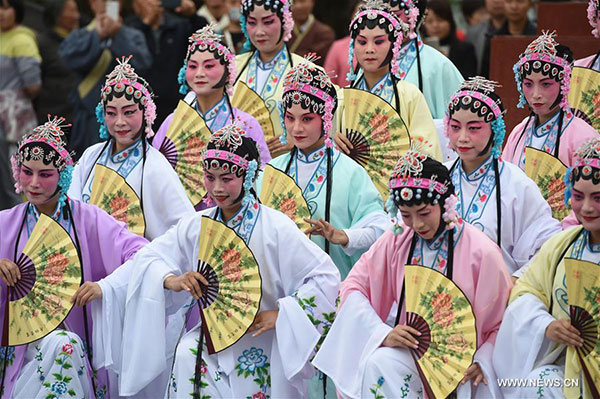 Actors perform a drama by Ming-dynasty dramatist Tang Xianzu (1550-1616) in Suichang county, East China's Zhejiang province, April 9, 2016. As Tang Xianzu created his major drama "The Peony Pavillion" in Suichang, local people organized the performance of his works to mark the 400th birth of the famed dramatist. [Photo/Xinhua]
Performers from Fuzhou, the hometown of Chinese playwright Tang Xianzu (1550-1616) will tour his work in Britain as part of celebrations to mark the fourth centenary of his death.
Plays adapted from Tang's romantic stories "Peony Pavilion" and "Purple Hairpin" will be staged in Stratford-Upon-Avon, hometown of British playwright William Shakespeare, who died the same year as Tang.
"Peony Pavilion" tells the story of the daughter of a wealthy official and a talented, but poor, scholar, who fell in love in each other's dreams, and against all odds wed each other.
Along with the plays, artists will also perform traditional Chinese dances, including the lion dance.
A delegation from Fuzhou in east China's Jiangxi Province will also go to Alcala de Henares, Spain, hometown of famous writer Miguel de Cervantes who also died the same year.
They are there to take part in the celebrations to mark the fourth centenary of the writer's death. In return, the city government of Fuzhou will welcome British and Spanish artists to Jiangxi in September.