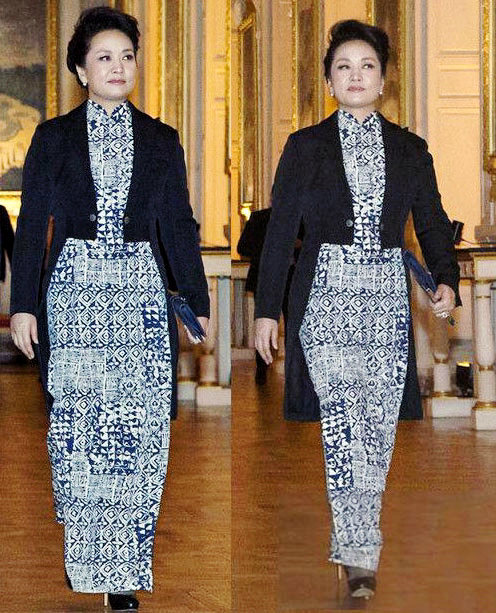 Peng Liyuan, China's first lady, wears a dress made of Chinese indigo-dyed cloth. [Photo/China Daily]
Natural indigo-dye has a long history in China, dating back to the Qin and Han Dynasties (BC 221-220), and indigo-dyed cloth had been used as a main material for clothes for at least 1,000 years. Natural indigo is extracted from four kinds of plants: Strobilanthes cusia, Indigofera tinctoria, Polygonum tinctorum and Isatis tinctoria. In Chinese, any plant that can be used to extract indigo is generally named as "Lan Cao" (literally, "blue plants"). The cloth dyed by these plants always retains a faint fragrant smell and is naturally mothproof.
Natural indigo-dyed cloth has two pattern categories: one is a white design printed on a blue background; the other has blue patterns on white. Patterns on both sides of the cloth developed in recent years. The themes are centered on plants, mythical and auspicious animals and characters in stories that bear Chinese people's good wishes for their lives.
Creating indigo-dyed cloth: Making indigo-dyed cloth includes the following steps: