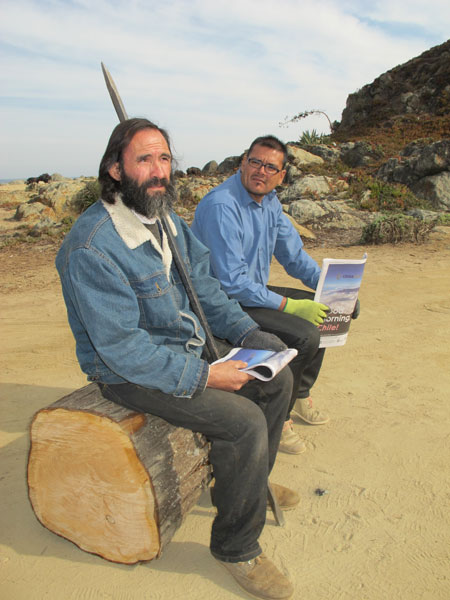 Jose Luis (left), and Hector (right) who are woodcutters working near Casa de Isla Negra, express their admiration of the Chinese people.[Photo by Li Ge/China Daily]
The embassy coordination meeting on the 2016 China-Latin America Cultural Exchange Year opened on Nov 16 in Beijing. The meeting announced the general arrangement and proposals for the activities of the cultural exchange year. The Ministry of Culture will make general arrangements for the related activities which will be held in a variety of cities of China as well as 20 Latin America and Caribbean countries.
The China-Latin America cultural exchange year will include an opening ceremony, Latin American and Caribbean art festival, Chinese culture show in Latin America and a closing ceremony. The cultural year aims to enhance the understanding and friendship between Chinese and Latin American people through exchanges in the field of literature, art, historical heritage, films, books, media and travel.
In July 2014, President Xi Jinping attended the "China-Latin America Cultural Exchange Year" held in Brasilia, Brazil. On Jan 8, President Xi repeated the importance of the China-Latin America comprehensive cooperative partnership, welcoming Latin American countries to jointly hold the cultural exchange year.
The representatives from 18 Latin American and Caribbean embassies, the Bureau for External Cultural Relations of the Ministry of Culture, Institution of Latin America of Chinese Academy of Social Sciences, China Today, and the China Cultural Media Group were present. Sponsors of the cultural exchange year introduced the general plan for the programs. The representatives from the Latin American and Caribbean embassies expressed their willingness to support the relevant activities.