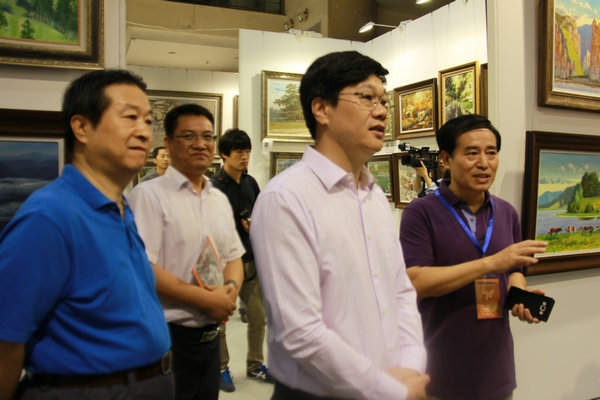 Chen Fengyue (right) introduces some of his collections to Zhou Maofei (center front), head of the Beijing state-owned cultural assets watchdog, at his exhibition booth at the 18th Beijing Art Expo.[Photo by He Keyao/chinadaily.com.cn]
"My dream is that one day my countrymen can have a good view of the best Russian paintings without stepping outside their own country's borders," said Chen Fengyue, the curator of Harbin Chenfengyue Russian Oil Painting Gallery.
The 18th Beijing Art Expo just ended, which witnessed a large turnout of art lovers who put great effort in cultural exchanges between China and the rest the world. And Chen Fengyue was one of them.
Chen, who is in his 50s, built his interest in fine art when he was young. He started to work at the Youth Fine Art Association of Heilongjiang in 1989 and built his own company for painting collections and sales in Harbin 2002. He collected a slew of traditional Chinese paintings and staged exhibitions in different cities.
Chen started to turn his eyes to Russian art in 2009, when he compiled the first book of the series Russian Contemporary Artists.
"I'm fascinated with the colors of Russian oil paintings. They are just so rich and delicate. One good Russian painter can create 3,000 to 5,000 different shades of colors,"Chen said.