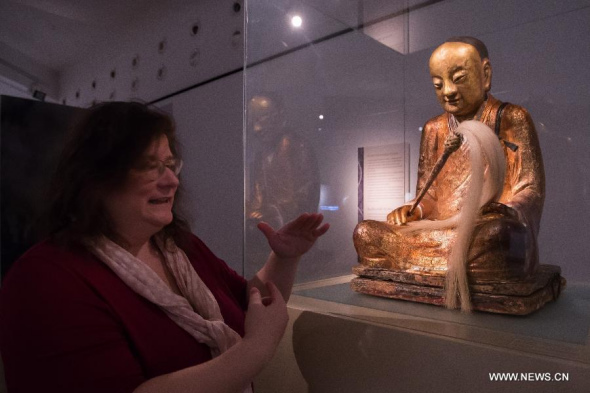 A Chinese Buddha statue with the mummified body of a Buddhist monk inside is on display at the Hungarian Natural History Museum in Budapest, Hungary on March 3, 2015. [Photo/Xinhua]
"We have always believed that the statue of Patriach Zhanggong should be returned to where it belongs. It is not only a relic, it is a saint that's been worshiped by the locals," Li said. He added that, "The statue should not be kept in a dark warehouse, in a place that is so strange to him."
In the meantime, an old man comes to the temple every day to clean the dust off the reproduction of the seated statue and he will sometimes chat with villagers resting in the temple.
This year's Fifth of Octoberon the lunar calendar, or Nov 16, is the birthday of Patriach Zhanggong. Villagers in Yangchun had hoped that the statue could return to his hometown on this particular day. As the day is approaching, villagers are becoming more eager.
"We have never ceased celebrating the birthday of Patriach Zhanggong, not even during the past 20 years – when it's been missing. Now we've learned its whereabouts, we're more eager than ever for its returning home," Lin Yongtuan said.
"The emergence of the statue might be indicating that Zhanggong really misses his home," Lin said.
The original article is in Chinese. It has been edited and translated by Ruan Fan.
Related:
Special: Mummy buddha statue in focus
Dutch collector: Mummified Buddha will return to China