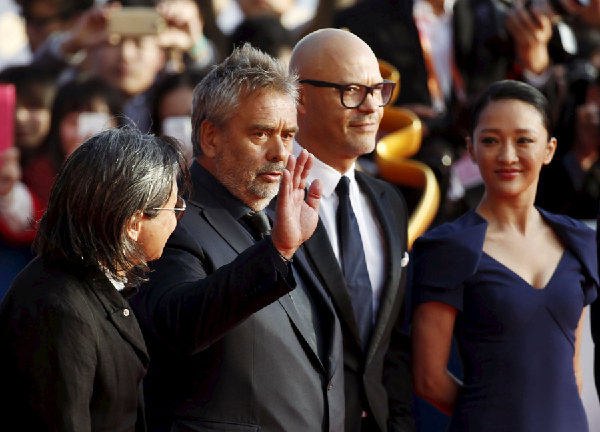 French director Luc Besson (second from left) waves as he walks the red carpet with Russian director Fyodor Bondarchuk (second from right) and Chinese actress Zhou Xun (right) during the Beijing International Film Festival at the National Center for the Performing Arts in Beijing, April 16, 2015. [Photo/Agencies]
"Over the past few years (Besson) has had quite a few cooperations with the Chinese film industry and he has a good understanding of the Chinese film market, Chinese films, Chinese audiences," festival organizer Zhao Zhiyong said.
"So that's why when we sent him the invitation he happily accepted."
China saw its box office revenues grow 34 percent last year to $4.8 billion, according to the Motion Picture Association of America, cementing its position as the second biggest box office territory after the United States and Canada.
Asked what needed to be done for Chinese films to make it big abroad, Zhao said: "We need to increase and push for more interactions between Chinese films, Chinese productions, and foreign films.
"I think this is a huge task that our Chinese films face and is a responsibility that we should live up to."
Fifteen films will compete for the festival's Tiantian Awards and the winners will be announced next week.
Related:
5th Beijing International Film Festival opens in the capital