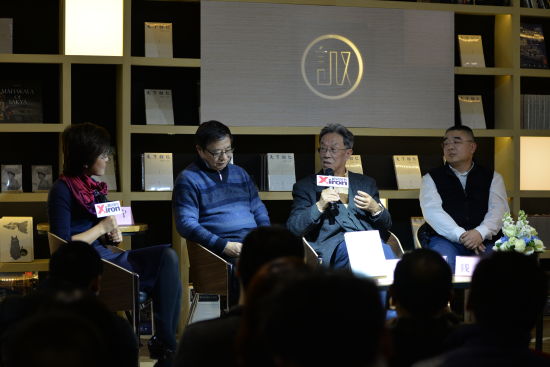 Wang Meng made humorous comments on the Analects of Confucius with guest professors at the press conference for his new book, The World of Benevolence. [Photo/book.sina]
The Analects of Confucius is the most representative classic of traditional Chinese philosophy. It is believed to have been written during the Warring States period (475 BC- 221 BC), and is highly praised for its wisdom on state governance and human life.
Zhu Xi, a philosopher and scholar during the Song Dynasty (960-1279) added the Analects of Confucius into the Four Books, a compilation illustrating core values of Confucianism. It served as the official curriculum for the civil service examinations in the Ming and Qing dynasties.
Like Plato and Socrates, Confucius brings his ideas home to disciples through dialogues and aphorisms. In the Analects, "Ren", or benevolence, is the most discussed and advocated virtue of an individual, meaning an altruistic love for others. Centuries have passed. The pursuit of Confucius to achieve worldwide harmony through benevolence never loses its appeal to the Chinese.
Lately, Wang Meng, a famous writer and former Chinese Minister of Culture, pointed out in his forthcoming book that Chinese should never abandon traditional spirit and teaching from classics like the Analects, especially in the age of the Internet.
At a press conference for his new book, World of Benevolence, Wang shared his unique understanding of the Analects of Confucius with guests and readers. Wang said that as modern people have spent too much time keeping pace with the high speed of this wildly spinning world, it is high time for us to return to traditional classic like the Analects or Lao Tze to find condolence and the way to the future.