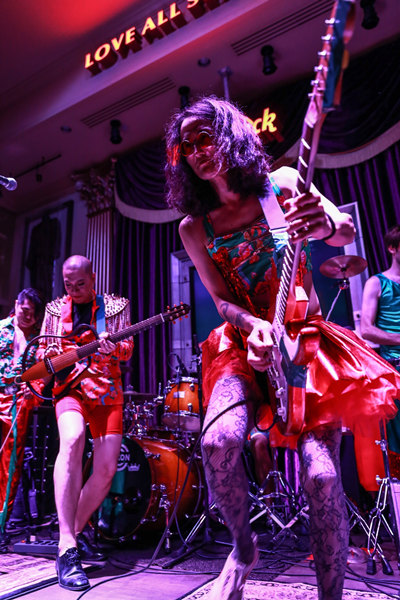 Liang Long (L) performs in the United States with his Second Hand Rose band in October. The band's fi rst US tour was well received. Photo provided to China Daily
Liang Long's first memory of New York City is unpleasant.
In 2007, he played a bar gig with his rock outfit, Second Hand Rose, for a dozen people or so. Ticket sales grossed about $100.
"Why did you want to perform in the US?" asked American music producer Matthew Corbin Clark, who was among the few present. (Clark had worked with Cui Jian, the "godfather of Chinese rock music", since 1996.)
Liang replied: "I don't know."
Seven years later, the 37-year-old has an answer.
"We want to show you what Chinese rock 'n' roll is," Liang said when Second Hand Rose performed at the Modernsky Festival in Central Park's Rumsey Playfield on Oct 4 and 5.
The outdoor event marked the US debut of the festival established in Beijing by Modernsky Record, China's biggest indie label.
It kicked off Second Hand Rose's first US tour, which also took the band to Boston and Washington DC. About 80 percent of tickets for each show sold out.
"I'm happy to see half the audience were Westerners, who are really interested in what's happening in China and what music young Chinese are listening to," Liang says in a cafe near Beijing's 798 art zone.
He says he's still excited weeks after the tour.
"My favorite TV series is A Native of Beijing in New York. When I sat on a Central Park bench, I felt like I was the lead from the TV series, Wang Qiming, seeking his American dream," Liang says.
Shen Lihui, who founded Modernsky Record in 1997, says: "Second Hand Rose's core is how they think and observe things from a Chinese perspective."
Liang chose the word "secondhand" as a reference to how Chinese rock mostly copied Western styles when he founded the band 15 years ago in his hometown, Heilongjiang province's capital Harbin.
"I didn't know what kind of music I should play," he recalls. "I just followed the others playing heavy metal and punk. The first two Beijing performances were total flops."