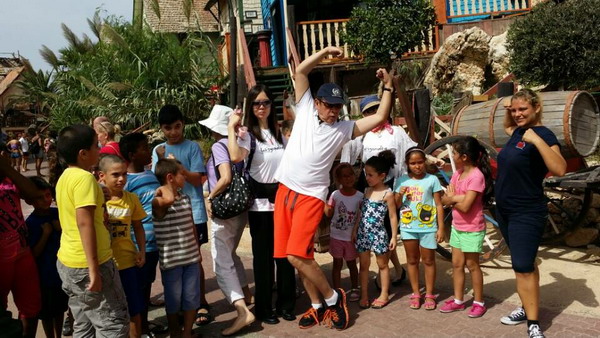 Chinese film director Jin Tao posed with Popeye's image with other delegates from the Chinese film industry during their visit to Popeye Village, one of Malta's popular tourist attractions, which was originally built as the set for Robert Altman's Popeye movie in 1987. [Photo by Chen Xiaorong/China Daily]
With superstar couple Brad Pitt and Angelina Jolie recently shooting their new movie By the Sea in Malta, some Chinese filmmakers are also eager to make this Mediterranean country their filming destination.
Peng Jun is one: His latest film is the love story of a Maltese woman born into a noble family and a Chinese playboy raised as a member of the "second-generation rich". They meet in China and fall in love after a lot of adventures in Malta.
Peng's previous works mainly focus on history and romance. He directed many TV series, such as Long River Flows East, starring Liu Xiaoqing in the role of Empress Xiaozhuang of the Ming Dynasty (1368-1644), and The War of Custody, which reflects family relationships in modern China.
In his new film, the inner struggles of the love affair, cultural differences and conflicts, Malta's splendid scenery and its intriguing historical sites will be an evocative combination, especially to young Chinese who like to explore Catholic countries' cultures, the director says.
In the heart of the Mediterranean, the island country of Malta boasts spectacular sea views, old narrow streets and unique architecture spanning from the ancient civilizations of Greece, Rome and Egypt to modern times. It is also famous for knightly culture.
"It is a hodgepodge of European culture and an ideal honeymoon destination. It could inspire filmmakers' imaginations," says director Jin Tao, executive vice-president of the Chinese Television Director Committee, who visited Malta last week.
For over 90 years, the cluster of islands, with its strong film legacy, has attracted productions from around the world. From street settings to battlefields and underwater scenes, it has been the backdrop for blockbusters, such as Gladiator, Troy and Munich.
Foreign production companies can benefit from the financial incentives offered by the Malta Film Commission. Malta offers up to a 27 percent cash rebate on what they spend on the island to shoot films or TV series, subject to state aid approval.
"Chinese and Maltese filmmakers are being encouraged to work together and co-produce films and series for international distribution," says Engelbert Grech, Malta's film commissioner. "Now about 100 Chinese films are going to be shot in Malta."
Chinese are not too familiar with Malta, but the number of tourists has grown rapidly in the past two years. This year, about 1,000 Chinese tourists have traveled there.
"With the goal of attracting 10,000 Chinese tourists each year in the coming years, Malta is probably going to have direct flights connecting with China in October 2015," says Edward Zammit Lewis, the country's tourism minister.