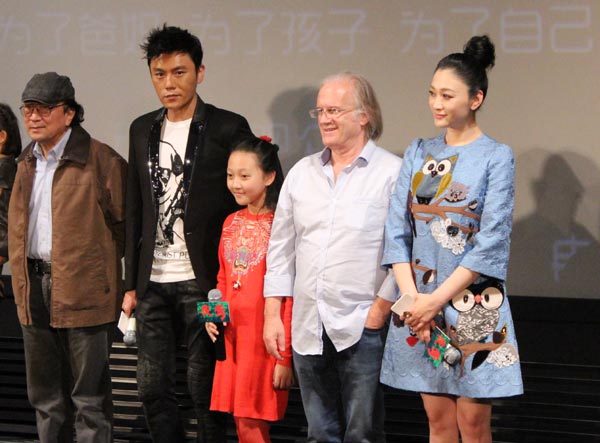 Philippe Muyl (second from right) and major cast of The Nightingale at a press conference in Beijing on Monday. Wang Kaihao / China Daily
While presenting the Sino-French production
The Nightingale
(Le Promeneur d'Oiseau) at a news conference in Beijing on Monday, French director Philippe Muyl was greeted by dozens of still and video cameras, which wasn't something he had perhaps expected.
Surprisingly chosen earlier this month to represent the Chinese mainland at next year's Academy Award for Best Foreign Language Film, the small-budget movie will open to general screening in China on Oct 31.
The movie took four years to make, but Muyl says the exhausting work was worth the effort.
"It was worthwhile because I've gotten a new impression of China and Chinese families in such a rapidly changing society," says Muyl. He spent about two years interviewing different Chinese families to prepare for the movie.
"I made the film with all my heart. It is a gift to celebrate 50 years of diplomatic ties between China and France. Family-themed comedies always travel across the border and are always welcomed in any cultural background."
In the movie, the sharp contrast between Beijing's skyscrapers and China's picturesque countryside in the form of the Guangxi Zhuang autonomous region seem to best capture Muyl's understanding of China.
Muyl is best known for The Butterfly (Le Papillon), his comedy on a grandfather's relationship with his granddaughter that was made in 2002. Its music is widely popular with Chinese audiences, many of whom probably expect an equal classic this time.
With The Nightingale, Muyl has tried to infuse his personal style from The Butterfly into a Chinese backdrop.
Again, it is a story on family: a rough journey in Guangxi by a grandfather and his spoiled granddaughter. The child's workaholic parents are also reflective of the hidden crisis in modern Chinese families-lonely youngsters. The soundtrack is a combination of French art house music and melodies played on traditional Chinese musical instruments.
Using a plain narrative, simple dialogue and clear scenarios, the film looks like a fairy tale. When asked about the movie's chances at the 2015 Oscars, the crew and cast appear modest.