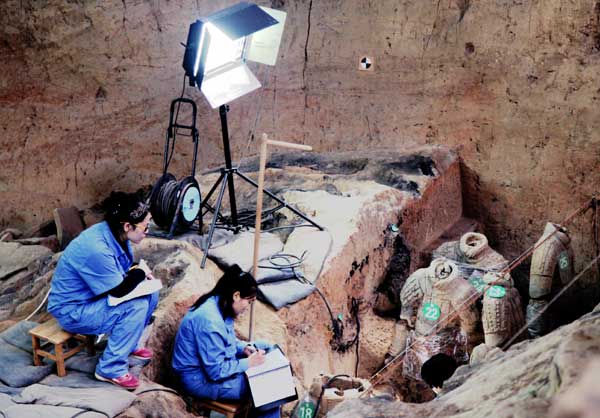 Experts record data from terracotta warriors in the Xi'an, Shaanxi province. [Photo by Fan Zhen/chinadaily.com.cn]
Taking the rare Qin terracotta warriors and horses around the world for exhibitions entails much difficulty and detailed preparations for those responsible for their care.
An exhibition of terracotta warriors from Xi'an, the capital of Northwest China's Shaanxi province, at the Children's Museum of Indianapolis in Indiana, the United States, from May 10 to Nov 2 is proving to be a hot attraction. The preparations for the exhibition also make an interesting story.
The display, "China's Terracotta Warriors — the Emperor's Painted Army", showcases 265 rare cultural relics, including life-sized warriors unearthed from pits next to the Mausoleum of Emperor Qin Shihuang, the first emperor of the Qin Dynasty (221 – 206 BC).
Among the exhibits, 18 are listed as first-class relics under national protection.
Pang Yani, director of the Shaanxi Cultural Heritage Promotion Center, which organizes overseas heritage exhibitions under the Shaanxi provincial administration of cultural heritage, said preparations for overseas exhibitions begin two to three years before the show is scheduled and the plan and relics to be exhibited must be approved by the State Administration of Cultural Heritage.
"Overseas exhibitions like that in the Children's Museum of Indianapolis are held several times in different countries by Shaanxi province," Pang said.
In order to prepare the exhibition and carefully protect the heritage items that are being sent overseas, Chinese and foreign experts make careful checks.
On April 12, Pang said, program managers from her center and experts from the Children's Museum, as well as staff from the Shaanxi Huaxie International Treasures Freight Services Co, which was responsible for transporting the heritage items, went together into the treasury to check the relics chosen for the exhibition.