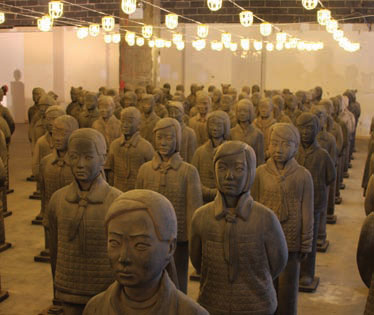 Terracotta sculptures of Chinese girls stand on display at a gallery space in New York on Sept 19 as part of Terracotta Daughters, an exhibit co-hosted by the French Institute Alliance Francaise (FIAF) and the China Institute. The installation, which showcases 116 handcrafted sculptures as part of Brooklyn-based artist Prune Nourry's latest artistic foray, will be open to the public in New York until Oct 4. Jack Freifelder / China Daily
A New York-based artist has drawn inspiration from the famed Terracotta Warriors of Xi'an for an ongoing project she is debuting at several sites around the world.
French artist Prune Nourry has brought her most recent project - Terracotta Daughters, a collection of 116 life-sized sculptures of young Chinese girls - to aspace owned by the China Institutein downtownNew York as the only stop in the United States on the exhibit's world tour.
And now, a project more than two years in the making is beginning to make the final few legs of its trip back to China, where the seeds of the project were initially sowed.
Nourry, a Paris-trained sculptor who dabbles in other artistic mediums, including video and photography, said a number of her artistic works have stemmed from issues relating to gender selection.
"My projects have always been related to human definition and gender imbalance in one way or another," Nourry wrote in an email to China Daily. "Terracotta Daughters are actually part of a triptych following previous projects in India, where I was highlighting the paradox of worshipping a symbol of fertility but not wanting the reality - girls."
"After India, my questioning led me to China, as these two countries together represent a third of the world's population," she wrote.
Nourry's work on her Terracotta Daughters began in 2012 with a research trip to the University of Xi'an, where she interviewed a number of sociologists and professors on the topic of gender preference in China.
In addition, she also had the chance to meet eight Chinese orphan girls, a group that she used as the muses for the original series of sculptures for this project.
"I wanted to work with children from the countryside, so The Children of Madaifu(a non-profit organization that helps Chinese orphans)introduced me to eight little girls aged 10 to 13," she wrote. "And those trips were essential to have a better understanding."
Nourry said the on-the-ground field research she conducts as part of the initial stages of her artistic process allows her to better understand the themes she addresses in her work.
In the case of Terracotta Daughters, an exhibit co-hosted by the French Institute Alliance Francaise (FIAF) and the China Institute, Nourry found that her work became a way to gauge the intersection of differing worldviews.
"When [the sculptures] were first shown in Shanghai in 2013, [the exhibit] was not meant to travel," she wrote. "But after the amazing reaction, I decided the girls should see the world before being buried so people from various places could have their own reactions."
The exhibit, which has already been on display in Paris and Zurich, will be on display in New York until Oct 4.