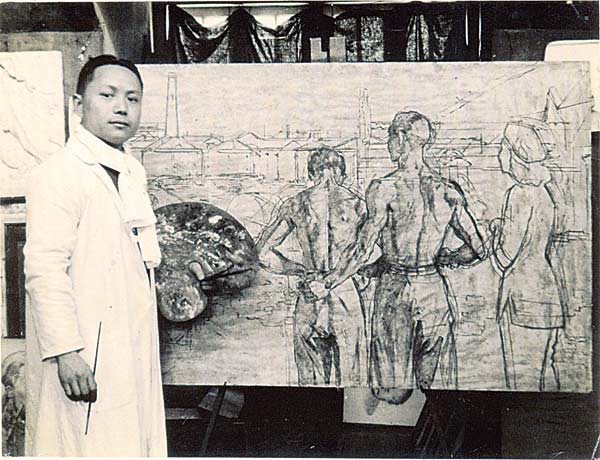 Artist Zhang Chongren in 1936. Photos provided to Shanghai Star
Zhang Chongren was immortalized when Belgian cartoonist Herge made him the Chinese sidekick of his popular character Tintin, but little is known about the man, an accomplished artist in his own right, in his own country. Zhang Kun reports.
Zhang Chongren (1907-1998) is more famous in Europe than China, and few have heard of him in his hometown, Shanghai.
But Zhang is famous around the world for being a friend of Tintin, a fictional character who is the protagonist in the story The Blue Lotus, and other adventures about China.
When the author of the Adventures of Tintin, Belgian cartoonist Herge — the pen name of Georges Remi (1907–1983) — wanted to write a story about Tintin in China, he was introduced to Zhang Chongren, who at that time was a student at the Academie Royale des Beaux-Arts in Brussels.
Zhang (also known as Chang Chong-jen) became Chang Chong-Chen under the pen of Herge, and accompanied Tintin on his adventure to China, introducing Tintin, as well as readers in Europe, Chinese people's fight against Japanese invaders, who claimed they had good intentions in China.
A new exhibition at Shanghai Sculpture and Painting Institute (SPSI) Art Museum has made an unprecedented study of Zhang, combing through his journey of life and art.