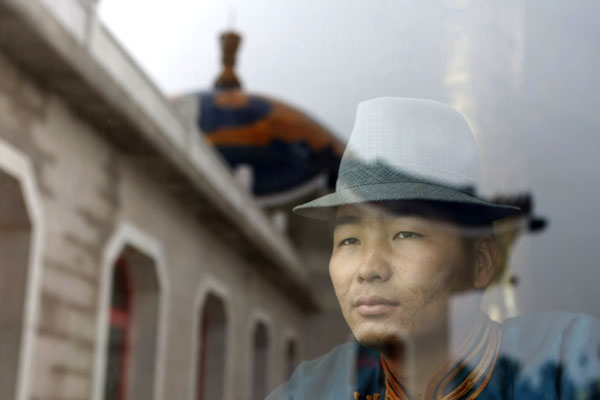 Jinbao, a young man of the Darhad tribe in Ejin Horo Banner, the Inner Mongolia autonomous region, is a guard for the Mausoleum of Genghis Khan. China News Service.
Darhad man steps up to family's calling as guardian of Genghis Khan's mausoleum
For Jinbao, a 25-year-old man of the Mongolian ethnic group, every day looks the same, but is equally solemn and sacred.
His mornings begin with the chanting of eulogies to his "Emperor Lord" in the mist of burning incense inside the Mausoleum of Genghis Khan in Ejin Horo Banner, the Inner Mongolia autonomous region.
Jinbao is of the Darhad tribe, who are descendents of two leading generals of Khan's Mongolian army, Bo'orchu and Muqali.
The two soldiers stood as guards of the mausoleum after Khan's death in 1227.
Like his ancestors, Jinbao is a mausoleum guard.
Though no one knows exactly where the great Khan was buried, the mausoleum, which houses some of his lifetime belongings, is considered by the Mongolian people to be one of the world's most sacred places.
In 1939, Jinbao's grandfather guarded the mausoleum as it was moved westward to protect it from a possible Japanese invasion.
The building that stands today was built in the 1950s on the original spot of Khan's tomb, and historic relics from eight scattered white yurts were moved into the new mausoleum's three golden palaces.
"When I was in high school, my father asked me and my two brothers which of us wanted to become a mausoleum guard. Only I immediately agreed," Jinbao was quoted by the China News Service as saying.