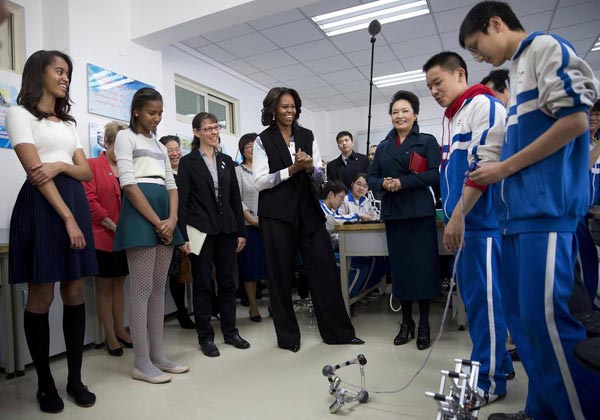 US first lady Michelle Obama (C), her daughters Malia (L) and Sasha (2nd L), and Peng Liyuan, wife of Chinese President Xi Jinping (3rd R), watch students demonstrating a remote-controlled robot, at the Beijing Normal School, a school which prepares students for university abroad, in Beijing, March 21, 2014. [Photo/Agencies]
On March 21, 2014, China's first lady Peng Liyuan accompanied US first lady Michelle Obama on a visit to the Second High School attached to Beijing Normal University in Beijing. The high school was the first stop for Mrs Obama and her two daughters in Beijing. Why a high school and why this school?
It is well-known that the US first lady has expended a lot of effort into youth education. The White House said that during the trip to China Mrs Obama would be focusing on the importance of education in her own life and in the lives of young people in both countries.
Mrs Obama said she would meet young people to hear about their challenges, hopes and dreams, as she has done on other trips. "And that's what I'll be doing in China as well," she blogged.
It is therefore not surprising for Mrs. Obama to choose a high school as her first stop. But why the Second High School specifically?
Founded in 1953, the garden-like school is a key high school in Beijing, which has gained considerable fame and a certain degree of influence abroad as well as in China.
A graduate of the school speculates that the reason is its good achievements in internationalization. Michelle Obama's daughters Sasha and Malia are studying in Sidwell Friends School, which is one of several sister schools abroad of the Second High School attached to Beijing Normal University. One of the most prestigious schools in the US, Sidwell Friends School attaches great importance to learning Chinese. Beijing Evening News reports that maybe Michelle Obama heard about the Second High School from her daughters.
The school's website explains that, a series of activities has been carried out to enhance the teachers' and students' cross-cultural awareness and ability to compare Chinese and foreign cultures.
The students from the Second High School also attribute the US first lady's first stop to its fruitful efforts in international exchanges.
Its reputation in China is gained from the students' good academic performance. The average score of its liberal arts students in the college entrance exams has been No. 1 in Beijing for quite a few years.
Half of the students in the liberal arts experimental class, with whom Michelle Obama communicated on her visit, have entered Peking University and Tsinghua University – two of China's top universities – in recent years.