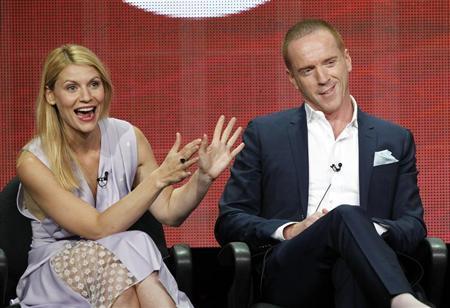 Cast member Claire Danes gestures next to co-star Damian Lewis at a panel for the television series "Homeland" during the Showtime portion of the Television Critics Association Summer press tour in Beverly Hills, California July 29, 2013. [Photo/Agencies]
Emmy-winning American counterterrorism thriller "Homeland" has been renewed for a fourth, 12-episode season after its audience has grown by more than a quarter in its current third season, US premium television network Showtime said on Tuesday.
"Homeland" has averaged 6.5 million viewers through the first three episodes of its third season, while the second season drew an average of 5.1 million viewers over the same time frame, Showtime said.
While the series' audience has grown since its lauded first season, the second season faltered with critics for what was viewed as outlandish plot twists. Last month, "Homeland" failed to repeat its Emmy for best drama, losing to "Breaking Bad."
"Homeland," which stars Claire Danes and Damian Lewis, also sits at a crossroads as Lewis' popular Brody character has slid out of the spotlight, not appearing in the first two episodes of the current season. Lewis has hinted that the character could be killed off.
The series, which won the trifecta of top Emmy awards - best drama series, and best actor and actress in a drama - in its first season, also takes over as CBS Corp-owned Showtime's top drama after cult hit "Dexter" concluded in September.
Showtime added that it renewed drama "Masters of Sex," about the William H. Masters and Virginia E. Johnson research team that pioneered the field of human sexual response in the 1960s, for a second season.
Related:
Tina Fey, Amy Poehler return to host Golden Globe Awards
'The Walking Dead' season premiere draws 16.1 million TV viewers