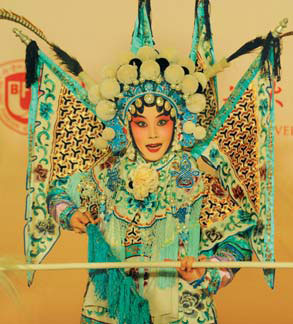 The release ceremony of 100 Peking Opera Classics in Beijing also features a performance of the genre. Liang Yue / for China Daily
Celebrated Peking Opera master Mei Lanfang (1894-1961) would probably be overjoyed to see the first volume of the English-translation series of 100 Peking Opera Classics released on Oct 19 in Beijing.
The books published by the capital's Foreign Language Teaching and Research Press comprise the country's first serial translation of Peking Opera works into English.
A panel of Peking Opera experts and translators from Renmin and Beijing Foreign Studies universities began compiling the series in September 2011, after years of preparation.
The first volume covers 10 classical Peking Opera works, including Farewell My Lady, The Empty-Town Stratagem and Fisherman's Revenge. Nine other volumes will be published within five years.
The series' chief editor Sun Ping is also a Peking Opera actress and the executive head of Renmin University's Chinese Operas Studies Center.
"When I visited Yale University a few years ago, I couldn't find English-language Peking Opera scripts in the library when my American students asked for reference books," she recalls.
"Many Westerners like Peking Opera but focus more on the beautiful masks, costumes and tunes. They can't understand the words, which propel the plots and are rich in cultural connotations."
Peking Opera uses ancient Chinese language and that's the greatest obstacle to promoting it overseas, she says.
Mei Lanfang had few translated works when he traveled to the United States and Europe in the 1930s to promote the genre.
The series' 92-year-old chief translation counselor Xu Yuanchong says: "There were many limitations created by such situations as personnel restrictions. Oftentimes, only the basic plots were translated."
Xu says it's difficult to enable Western readers to understand the scripts while maintaining their original beauty.
For instance, Xu's team changed a line from Romance of the Western Chamber once translated by British author George Bernard Shaw as "dewdrop drips, peony opens" to "drew drop drips, peony sips with open lips" to maintain its poetic rhythm.
The series also includes the musical scores, introductions of the works and stage photos.
Sun says people must see actual performances to appreciate the genre.
She says she is grateful to two scholars from the University of Hawaii in Honolulu, who contributed to the books and have performed Peking Opera in the US for more than three decades.
The publisher also plans to promote video versions of these classics.
The first 200 sets of books have been sold, with most going to China's embassies and consulates overseas. The series will later enter the curricula of Confucius Institutes worldwide.
"I expect to see the series in the libraries of Yale and many top universities," Sun says.
The release ceremony was attended by 121 diplomats from 82 countries.
Australian ambassador to China Frances Adamson said in Mandarin while accepting the new book as a gift: "The touching tunes of my first encounter with Peking Opera in Hong Kong years ago are still clear in my mind.
"But what attracts me more is the opera's history, which is a reflection of the development of Chinese arts and society in the past 200 years. I look forward to this series performing an equally important role in cross-cultural communications as Master Mei Lanfang."
Zhao Qizheng, head of the Foreign Affairs Committee of the National Committee of the Chinese People's Political Consultative Conference, says: "The publication of this book is an important step for our culture to go abroad. Peking Opera is a big platform to show Chinese people's emotions, including love, friendship and filial piety. Translating it clearly will illustrate what Chinese people are like.
"We should have cultural self-confidence. Maybe one day we can translate Peking Opera as 'jingju', as it's pronounced in Chinese, like Japan's kabuki."
wangkaihao@chinadaily.com.cn