Yang Weize was accused of abusing his positions, accepting millions in bribes
Yang Weize, former Party chief of Nanjing, capital of Jiangsu province, stood trial on Wednesday for allegedly receiving bribes of 16.4 million yuan ($2.48 million).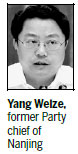 The former senior official was tried at the Ningbo Intermediate People's Court in Zhejiang province. Yang pleaded guilty. The court's verdict will be announced later.
According to the Ningbo procuratorate, Yang, together with his wife, accepted large amounts of bribes from 2005 to 2014 by using his positions to seek profits for others.
It said that he made use of his positions as a member of the Standing Committee of the Communist Party of China Jiangsu Provincial Committee and the Party chief of Wuxi and Nanjing. He helped Zhao Jin, son of a former senior official, and other companies and individuals, gain benefits in developing real estate and in official promotions.
Zhao Jin, a real estate developer in Tianjin, was detained in 2014, which reportedly led to his father, Zhao Shaolin, being investigated. Zhao Shaolin was a former member of the Standing Committee of the CPC Jiangsu Provincial Committee and secretary-general of the provincial Party Committee.
Zhao Shaolin was charged in the Ningbo court last month. He was accused of assisting his son in illicit business operations, offering bribes and committing fraud in purchasing foreign currency. Other charges included indulging his son in opening private clubs and attending banquets to give bribes.
Yang, born in 1962, began his career as an office worker at the Jiangsu provincial transportation department in 1981. He became the mayor of Suzhou in 2001 and the Party chief of Wuxi in 2004.
From 2011 to 2015, he worked as the Party chief of Nanjing. He was also an alternate member of the CPC Central Committee.
Yang was stripped of the post and expelled from the Party, and his case was handed over to judicial authorities, the Central Commission for Discipline Inspection announced in July last year.
Yang allegedly had a tense relationship with Ji Jianye, the former mayor of Nanjing.
Ji was sentenced to 15 years in prison and fined 2 million yuan in 2015 for receiving 11.3 million yuan in bribes between 1999 and 2012. In 2013, he became the first provincial-level official to face an anti-graft investigation in Jiangsu.