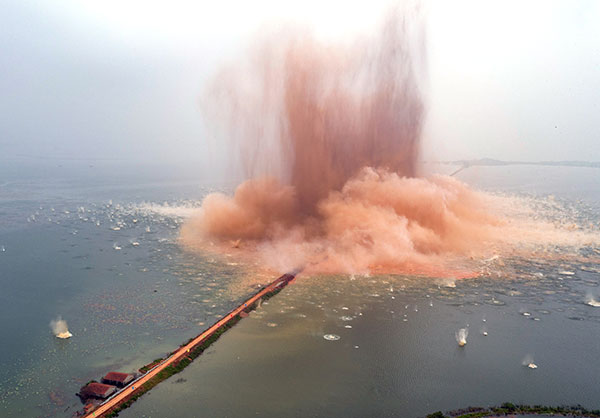 The dike that turned Liangzi Lake into two lakes 37 years ago is destroyed in a controlled explosion in Wuhan, Hubei province, on Thursday. HU JIUSI/CHINA DAILY
Special coverage: Rainstorms cause widespread flooding across China
Wuhan, the city in Hubei province that has suffered severe urban waterlogging, destroyed a 1-kilometer-long dike on Thursday to permanently enlarge its biggest lake, increasing the city's capacity to fight flooding.
The explosion helped Niushan Lake join its mother lake, Liangzi Lake, 37 years after the two were artificially separated. This lowered the water level of Liangzi by 15 centimeters to a safer level of 21.33 meters.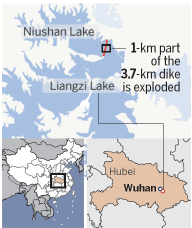 "Due to various reasons, the number and surface area of lakes in our province have dropped a lot as many lake areas were reclaimed for farming or filled for building," Ren Zhenhe, vice-governor of Hubei, said on Wednesday.
Known as the "Province of Lakes", Hubei boasted 1,332 lakes in the 1950s, each with a surface area of more than 6.7 hectares, but the number has dropped to 728, according to Wang Zhongfa, director of Hubei's Water Resources Department.
Among them, Liangzi Lake is the second largest.
There were 127 lakes in urban areas of Wuhan in 1949, but now only 38 are left, official data show.
Ren said that with their natural functions degraded, the lakes could not effectively absorb floodwaters during severe flooding.
"The explosion is to merge those lakes that were separated and restore their function of storing floodwaters," Ren said.
Hubei is one of the areas hit hardest by the recent downpours in China. Data from the central government show that as of Wednesday, 1,508 counties in 28 provincial regions had been affected by flooding that killed 237 people and left 93 missing. The direct economic losses caused by the flooding had reached 146.98 billion yuan ($22 billion).
On July 6, heavy rainfall in Wuhan made the city a world of water, with many vehicles breaking down on the roads. The flooding paralyzed more than 200 roads in urban areas.
Many have criticized the local government for intruding into lakes for development, which has damaged the city's capacity for absorbing floodwaters.
Persistent rain since mid-June pushed the water level of Liangzi Lake to a record high of 21.48 meters by 8 am on Tuesday, 12 cm above emergency level. It was more than one meter higher than that of the adjacent Niushan Lake.
As of noon on Wednesday, 1,658 residents had been evacuated to make way for the dike explosion, according to Long Zhengcai, vice-mayor of Wuhan. At least 60of them will have to be permanently relocated, since their homes will be submerged by lake water.
Xinhua contributed to this story.