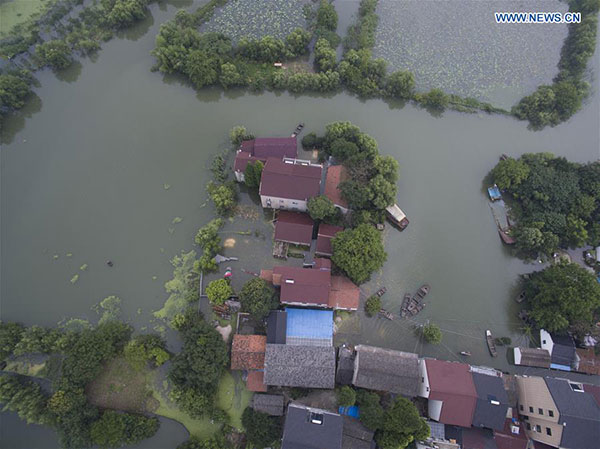 An aerial photo taken on July 11, 2016 shows the flooded Dadangyang Village of a tourist resort in Changxing County of Huzhou City, East China's Zhejiang province. [Photo/Xinhua]
More rains are forecasted in the Yangtze River Basin on Wednesday, mostly in the lower reaches, where 4 million people are involved in the fight against floods, including 100,000 soldiers.
Four rounds of rains are forecast to batter the middle and lower reaches of the Yangtze River later this month, creating further challenges for already intense flood control efforts, according the Yangtze's flood control and drought relief headquarters.

The earliest storm is expected to arrive on Wednesday and last until Saturday, while another three are forecast by the end of July, said a spokesperson for the headquarters at a press conference on Monday.

The middle and lower reaches of the Yangtze and the northeastern part of Sichuan province are likely to receive 20 percent more precipitation between July and September than usual, according to forecasts.

Since March, 27 rounds of heavy rains have pounded the river basin and caused severe flooding. Downpours since June 30 in 11 provincial regions left 164 people dead and 26 missing as of Friday morning, according to the Ministry of Civil Affairs.

The headquarters urged no letup in the battle against floods, which are common in late July and early August. As of Monday, 2.9 million people living in the basin have been evacuated and 870,000 people have been rescued.

Chen Guiya, deputy director of the Yangtze River Water Resources Committee, said the rain would put more stress on the middle and lower reaches than the upper reaches, where reservoirs have capacity for another 28 billion cubic meters of water.

Vice Premier Wang Yang warned in mid-June that China, affected by El Nino, may face basin-wide floods this year.