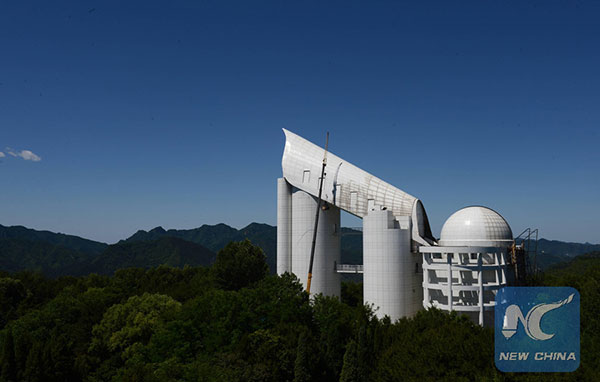 Photo taken on June 19, 2015 shows the Large Sky Area Multi-Object Fibre Spectroscopy Telescope (LAMOST) at the Xinglong observation station of the National Astronomical Observatories under the Chinese Academy of Sciences in Xinglong, North China's Hebei province. [Photo/Xinhua]
LONDON -- The Chinese Academy of Sciences (CAS) ranks the first for the fourth consecutive year among global science institutions in the Nature Index, the British Nature Publishing Group announced Wednesday.
In the ranking based on countries and regions, China ranks the second after the United States, with a remarkable growth in science papers and increasing input to those papers.
The scientists of CAS, the world's largest scientific organization, comprising 114 institutions and 48,500 researchers, made the largest contribution to high-quality research included in the index, a contribution that has grown by a compound annual growth rate of 6.8 percent since 2012.
Last year, the Institute of Chemistry, one of the oldest CAS research centers, was also one of the largest contributing departments to the institute's weighted fractional count (WFC) -- 1,357.82, nearly doubling that of the second-placed Harvard University's 772.33.
The Nature Index is a database of author affiliation information collated from research articles published in an independently selected group of 68 high-quality science journals. The index provides a close to real-time proxy for high-quality research output at the institutional, national and regional level.
The 68 journals represent less than 1 percent of the journals covering natural sciences in the Web of Science, but account for close to 30 percent of total citations to natural science journals.
Among the top 10 institutions are the French National Centre for Scientific Research, the Max Planck Society in Germany, Stanford University in the United States, University of Tokyo in Japan, the Massachusetts Institute of Technology in the United States, the Helmholtz Association of German Research Centres, the University of Oxford and the University of Cambridge in Britain.
The contribution of the US scientists to high-quality scientific research and sheer number of articles they published in top journals outpaced every other nation in 2015.
The US WFC was more than double its nearest rival, China, last year. However, according to the British Nature Publishing Group, despite U.S. dominance, its contribution to articles included in the index declined between 2012 and 2015.