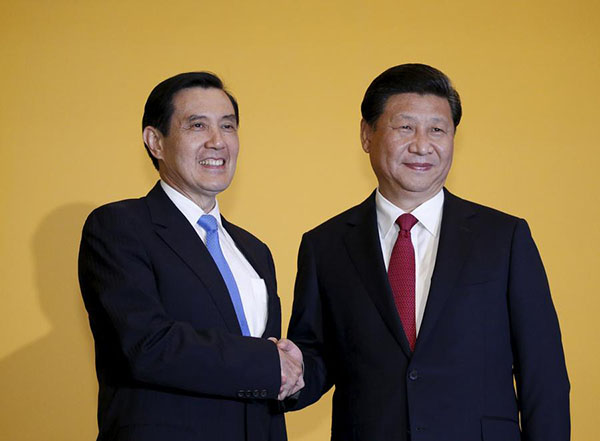 Xi Jinping and Ma Ying-jeou shook hands on Saturday afternoon in Singapore in the first meeting between leaders of the two sides of the Taiwan Strait since 1949, opening up a historic page in cross-Straits relations. [Photo/Agencies]
Relations across the Taiwan Straits are now at a crossroad, and leaders on both sides ought to make wise decisions that could stand the test of history. This was the main message that Xi Jinping delivered in the opening remarks at a historic meeting with Ma Ying-jeou on Saturday.
Divided by a sea channel and bitter history, the leaders shook hands for the first time since 1949 in Singapore on Saturday afternoon.
In front of hundreds of reporters, the hand-shake lasted for about 70 seconds, then the two leaders waved to cameras.
On the historic meeting held afterwards, Xi reiterated the stance that has been long held by the Chinese mainland regarding to cross-Straits relations.
He called for joint efforts to stick to 1992 Consensus, in which the two sides recognize that there is only one China. Xi also called for adherence to a path of peaceful development and increased exchanges across the Straits.
"The past 66 years has shown the bonds between people across the Straits. No matter how long we have been parted and how much difficulties we have gone through, we are still family and blood is always thicker than water," Xi said in the opening remarks to Ma.
"We should show the world that we could solve our own problems and together make a greater contribution to the world," he said. The two sides are scheduled to hold separate press conference after the close-door meeting.