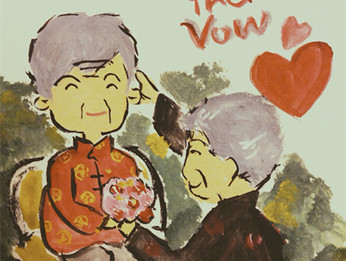 An artist draws a painting of Shen Shukun and his wife. [Provided by Shanghai Star]

Shen Shukun, 86, is in the final stages of prostate cancer. His wife, Cui Liying, also 86, suffers from Alzheimer's disease and is almost totally blind.
They've been married for more than 60 years, but Shen says he had hoped to grow old together happily. But now, he hopes her disease will allow her to forget him when he's gone, so her life will be easier.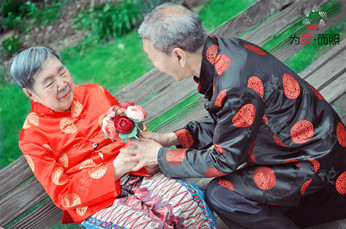 This photo undated shows Shen Shukun presenting his wife a bouquet of folower. [Provided by Shanghai Star]
That may be his last wish. His health is no longer as he wishes it to be and Shen suffers from diabetes and lung, bladder and kidney ailments, he also has prostate cancer but decided to stop treatment.
Earlier this year, on the first day of the Lunar New Year, he moved into the nursing home where his wife now stays so he could spend his remaining days next to her.
"Every morning, I pull her into my room from the other building, make her a cup of coffee with milk, her favorite drink, and we watch sports programs on TV together," Shen says.
Sweet memories
Shen and Cui first met in 1945 when they were both teenagers. Shen's cousin had introduced them and they quickly became close. "Open courtship was rare in those days, and I guess we were one of the lucky couples," recalls Shen.
Both were born into wealthy families and received good educations. Shen studied agriculture at Fu Jen Catholic University.
"My father bought a lot of farmland in Hangzhou, and that's why I chose to study agriculture," Shen says.
A shared interest in dancing helped the couple grow closer. Shen says Cui was a great dancer, and before they got married they danced as often as possible.