Home port welcomes back Jiaolong as submersible given new mission
Jiaolong returned in glory from a six-week mission to its home port on Monday and received new orders for another research dive.
The submersible reached a record depth of 7,062 meters in June in the Mariana Trench in the western Pacific Ocean, proving China has the technical capability to explore 99 percent of the ocean floor.
Jiaolong's next mission will see it dive in the South China Sea to conduct further research.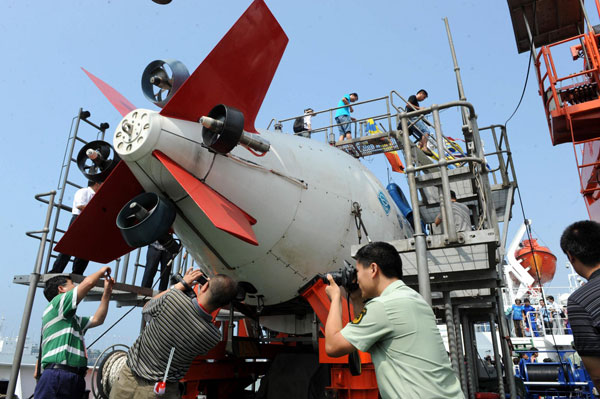 The stern of the Jiaolong proves a popular attraction in Qingdao, Shandong province, on Monday.
[Photo/Xinhua] 
The dive, scheduled for April and May next year, will focus on the seabed's changing environment and its influence on the climate, Liu Feng, project commander, said in Qingdao, Shandong province.
The ocean deep, in many respects, holds the key to unlocking the mysteries of life on Earth, Liu said.
Scientists will be on board the submersible on next year's voyage, he said, as they were for the June dive.
Following next year's project, the submersible will go to allocated areas approved by the International Seabed Authority for research and prepare to undertake a mining project, Liu said.
Female candidates will be considered for future projects, he said.
Due to weather and ocean conditions, Jiaolong is in operation about 150 days a year, Science and Technology Daily reported on Monday.
Lack of an advanced support ship is preventing it from being used more, but a new one is set to be constructed, scientists said.
"Work will start on the new support ship for Jiaolong in 2013 and be finished, we hope, in 2015," Jin Jiancai, secretary-general of the China Ocean Mineral Resources Research and Development Association, said.
The craft is now transported by Xiangyanghong 09, which was built in 1978 and became the trial support ship for the submersible in 2007.
After 34 years of service, the vessel cannot meet the demands of long-term offshore scientific research, and is unable to guarantee dive stability in strong winds or tides, Liu said.
However, before the new support ship is finished, Xiangyanghong 09 will continue to carry Jiaolong for deep-sea research and exploration, he added.
Jiaolong reached its deepest depth of 7,062 meters in the Mariana Trench on June 27.
Vice-Premier Li Keqiang congratulated the crew members and the team involved in the dive in a letter on Monday.
He said the successful dive beyond 7,000 meters marked a technological breakthrough.
Jin said that the next step is to let the submersible detect maritime resources.
According to Jin, China has two seabed areas for resource exploration and mining approved by the International Seabed Authority.
Jiaolong is part of the preparations for the future commercial mining of the seabed, he added.
A deep-sea research base will also be set up in Qingdao and should be completed by 2015, Jin said.
Ma Xiangneng, a senior engineer with China's deep-sea station project, told China National Radio on July 3 that it plans to build a 250-ton deep-sea station, where humans can live.
Wan Gang, minister of science and technology, said at the homecoming ceremony that China will explore the ocean in a gradual process.
Hollywood director James Cameron used a specially designed submarine in March to become the first man to dive solo into the Mariana Trench. He reached a depth of 10,898 meters, the US National Geographic Society reported.
Contact the writer at wangqian@chinadaily.com.cn