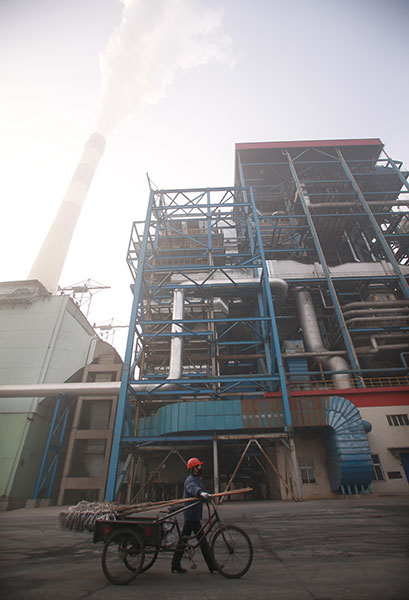 The Datang Baoding Co-Generation Power Plant in Baoding is adopting advanced technology to reduce the emission of air pollutants. ZOU HONG/CHINA DAILY
The road ahead
The emergency measures will be lifted as planned on Jan 1, and the Baoding government does not intend to use production restrictions as a long-term solution to pollution, Wang said.
Instead, long-term measures will focus on reducing coal consumption by upgrading the infrastructure and optimizing the structure of energy consumption, by promoting the use of natural gas and "green" fuels, according to the environmental bureau.
In May, a gas pipeline to connect households in about 100 villages in the city's urban districts will be completed, and coal-fired boilers will be phased out.
"In 2016, we expect to see the air quality improve, thanks to shrinking coal consumption in urban areas," Wang said.
However, it is not possible to control coal consumption in some rural areas, partly because the government can't afford to subsidize residents' purchases of high-quality coal, which generates much fewer pollutants.
Chai Fahe, deputy head of the China Research Academy of Environmental Sciences and one of a number of consultants Baoding has invited to help curb air pollution, said the month-long restrictions were not surprising given the mounting pressure from the public and higher-level governments to curb smog.
The integrated development of the Beijing-Tianjin-Hebei cluster will also provide opportunities for Baoding to improve its air quality, thanks to increased central government funding and the growing use of advanced technologies, he said.
Chai said the city's move to provide gas for a larger number of urban households is an effective method of reducing pollution.
"For rural households, it's better to get rid of the old coal-fired boilers and promote the use of electricity for heating," he said.