European Commission still undecided on China Market Economy Status
By Fu Jing in Brussels ( chinadaily.com.cn )
Updated: 2016-07-21 05:17:35
The European Commission is still divided over granting China market economy status in line with the World Trade Organization accession commitment made 15 years ago; it said it will table a proposal by the end of this year.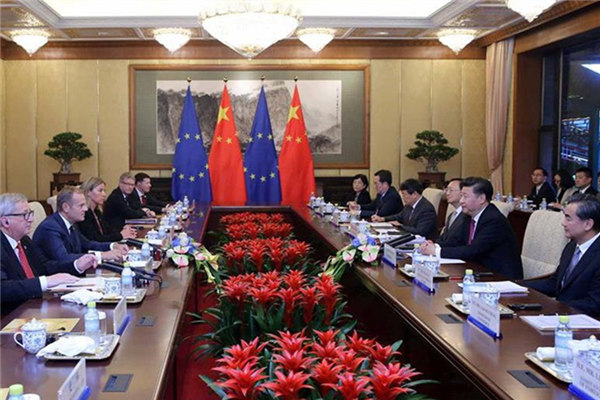 Chinese PresidentXi Jinping(2nd R, front) meets with European Council President Donald Tusk (3rd L, front) and European Commission President Jean-Claude Juncker (2nd L, front) in Beijing, capital of China, July 12, 2016. (Xinhua/Liu Weibing)
At the weekly meeting on Wednesday, the commissioners discussed the political, economic and legal implications resulting from the expiry on December 11 this year of some provisions in China's Protocol of Accession to the WTO and what consequences can be drawn.
Beijing has repeatedly said Brussels should give it such recognition automatically as agreed after 15 years of transitional period of WTO membership. It says it is non-negotiable.
But Brussels has recently decided to link granting market economy status with China's efforts in reducing steel overcapacity, which Beijing insists is unfair and unreasonable.
Within the EU, the UK, The Netherlands, Hungary and the Nordic countries support China's market economy status. Germany is, in principle, supportive, but is interested in safeguards for sensitive industries, while Italy and France are opposed. China is recognised as a market economy by up to 100 countries such as Brazil, New Zealand, Switzerland, Iceland, Australia and Russia.
As the deadline approaches, analysts say Brussels has used its complicated institutional tools and mechanisms to complicate the issue, coupled with pressures from lobbying groups, during previous months.
Wednesday's discussion followed an orientation debate held on 13 January on whether, and if so how, the EU should change the treatment of China in anti-dumping and anti-subsidy investigations after December 2016.
At the orientation debate on Wednesday, the commissioners discussed the three options, which include leaving the EU legislation unchanged or removing China from the list of "non-market economies" and applying the standard methodology for dumping calculations. It also reviewed changing the anti-dumping methodology for a new approach which would maintain a strong trade defense system, while giving effect to the EU's international obligations.
European Commission Vice-President Jyrki Katainen said the discussion was not about whether or not China is a Market Economy.
"It is about how to adapt our trade defense instruments to deal with the realities of over-capacity and a changing international legal framework," said Katainen.
"By acting on several fronts, together with the European Parliament and Member States, we can treat both the symptoms and underlying causes of unfair trade and provide greater job security in Europe."
Taking into account the debate on Wednesday, the Commission will revisit the matter and table a proposal before the end of this year.
Weeks ago, the European Parliament voted to refuse China MES status, with many members saying that China has not met the five criteria of market economy set by the European institutions. The vote is not binding.
Beijing maintains granting MES is dependent on international rules, instead of respecting domestic criteria.
Luigi Gambardella, president of ChinaEU, a non-profit organization in Brussels promoting bilateral digital and Internet cooperation, said to deny MES to China would be a strong political signal from the EU and may well cause the deterioration of the recent warming political relationship between the two economies.
Gambardella said in the short term, there are concrete risks of retaliation from the Chinese side, causing EU economies serious pain and uncertainty over the end result.
"Closing the door to China may thus have very negative effects," Gambardella said in a previous interview.
To contact the reporter at fujing@chinadaily.com.cn
Editor: Chris Peterson

We will not give up search, Li vows
International hunt for missing airliner continues after fruitless six-day search