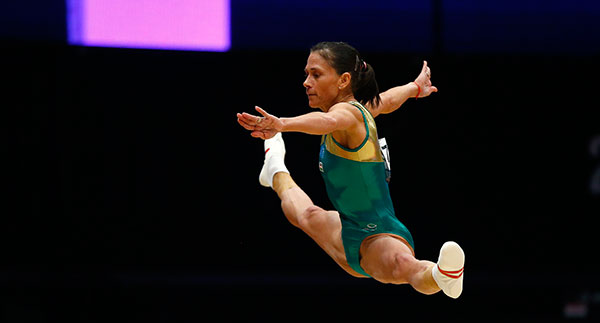 Uzbekistan's Oksana Chusovitina performs during her floor routine in the women's qualification competition at the world artistic gymnastics championships in Glasgow, Scotland, last October. Matthias Schrader / AP
Oksana Chusovitina is training for a record-breaking seventh Olympic Games that will see the 41-year-old Uzbek become the oldest female gymnast to ever compete in the global showcase.
Chusovitina's qualification for the Rio Games extended a staggering career that has seen her represent three different countries over a quarter of a century in a sport dominated by teen prodigies.
Chusovitina, whose son is as old as many of her rivals for Rio medals, said she does not deprive herself to maintain her muscular 5-foot, 95-pound frame.
"I just train and perform because doing so brings me pleasure." Chusovitina said during a break in training at the vast Gymnastics Palace in Tashkent.
Chusovitina started her career competing for the Soviet Union. After it collapsed, she went to the 1992 Olympics in Barcelona for the Confederation of Independent States, a unified team of former Soviet states.
There she scooped gold in the team event but she had to wait another 16 years for an individual Olympic medal.
That came when she won silver on the vault in Beijing in 2008. By then Chusovitina was representing Germany, a country she moved to in 2002 to get her son Alisher, born in 1999, successfully treated for leukaemia.
Now she is back representing her Central Asian homeland of Uzbekistan - a nation of 30 million people where she is so revered she is portrayed on postage stamps.
"It is too early to make any sort of predictions," Chusovitina said when asked about her medal hopes for Rio.
She admitted it is sometimes tough keeping up with the rigors of a sport where she is often competing against gymnasts less than half her age.
"Gymnastics has become much more difficult, but at the same time much more dramatic and beautiful," she said, while crediting constant training and hard work as the keys to her longevity.
While Chusovitina might be coy about her achievements, coach Nikolai Pak is much more forthcoming as his oldest athlete prepares to break the record for Olympic appearances by a gymnast.
"She has raised the bar," said Pak. "Modern gymnastics is changing rapidly and Oksana is right up there with it. She doesn't stand still, and is always developing herself."
The admiration for an athlete who has won world championship gold for Uzbekistan on the vaults runs deep among her younger colleagues as well, as several junior athletes training in the Tashkent Gymnastics Palace cited Chusovitina as an inspiration.
"She used to coach me sometimes and help me out with some things," said Elena Rega, an 18-year-old who has already represented Uzbekistan.
"It is everything about her character, her warrior spirit. When she enters the gymnastics hall, it lifts your mood."