Russian champ not ruling out fifth Olympics
Four months after undergoing neck surgery, figure skater Evgeni Plushenko is back on the ice - two months earlier than his doctor advised.
And the multiple world and Olympic singles champion is not ruling out competing in what would be his fifth Winter Games, the 2018 showcase in Pyeongchang, South Korea.
"We will see how I work and how I feel," the 33-year-old Russian told China Daily before performing in the 'Amazing on Ice' show in Beijing on the weekend.
"If I am not injured, why not (another Olympics)?" said Plushenko, who started skating at age four.
Three decades of training and competition have extracted a physical toll, especially in recent years. At his fourth Winter Olympics, on his home soil in Sochi in 2014, he was forced to withdraw from the singles due to a back injury after helping Russia win the team gold.
He returned to competition in April of last year, but was forced back to the sidelines in September.
After missing the entire 2015-16 season, Plushenko underwent neck surgery four months ago. His doctor advised him to rest until September, but Plushenko's competitive spirit pulled him back to the ice after a shorter-than-expected recovery.
"The recovery was very good; I just started skating because for three months I couldn't," he said. "Now I'm happy and everything is OK. I feel much better. At first I could not feel my arm because of the neck problem, but they fixed that with the surgery. It's OK. It works."
Former coach of the Russian national figure skating team Alexei Mishin described Plushenko's current form as "as good as before... just like a young skater."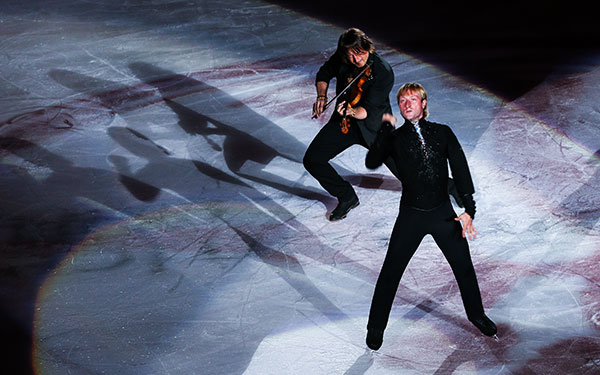 Evgeni Plushenko in action at the 'Amazing on Ice' show in Beijing. [Photo/VCG]
On Friday, Plushenko skated to Hungarian violinist Edvin Marton's rendition of Carmina Burana and put on his own classic program, Tango Amore, with young Chinese skater Jin Boyang.
For Plushenko, skating is life.
"I like to skate, I like to perform," he said when asked why he returned so soon. "This is my job. This is my life. This my everything."
And he is confident of returning to top form in a short time.
"I need one month," Plushenko said. "After the performances in China, I will continue practicing and I will make new programs. I need one month to make the triple axel. For the quads, I need two or three months."
Performing in ice shows is the first step. He said he won't compete in the upcoming season, but for next year, everything is possible.
"This season for sure I will not compete, because I have a lot of shows," he said. "I don't want to rush.
"I don't want to look too far forward. I have a plan, and I will try."
leilei@chinadaily.com.cn

Q&A with a legend
You partnered with China's Jin Boyang in 'Amazing on Ice.' Were you familiar with Jin before? What do you think of him?
I didn't know him before; just saw him this year. This year is such a great one for him. He is just a great skater because he did four quads in one program. It's amazing. I believe he can be in the 2018 Winter Olympics.
Do you have some suggestions for young skaters like Jin?
Just work - and work hard! Listen to your coach and listen to your parents and work hard. Listen to the voice inside of you. That's the secret of a champion.
Russian men's singles skaters fell out of world's top rankings in recent years after your injury. What do you think of the current situation?
I think it's not a problem. It's not a good time for our skaters, but we have Mikhail (Kolyada), who came fourth at the worlds this year. It was a good result for him since it's the first worlds for him. Looking forward, we have new boys, but we need time.