Center Derick Brassard was on his way to a training session on Monday when he got a text from former New York Rangers teammate Martin St. Louis.
It wasn't an ordinary text.
"He was just telling me, 'Good luck in Ottawa. I think it's going to be good for you. They're an up-and-coming team,'" Brassard said. "I was like, 'Oh, I guess I'm traded to Ottawa.'"
Brassard would get the official word a few minutes later that he and a 2018 NHL Draft pick had been traded to the Senators for forward Mika Zibanejad and a pick.
He said he had heard rumors for a few weeks about a possible trade between the Rangers and Senators, but didn't know for sure until he got the text from St. Louis.
"My family's pretty happy," said Brassard, who is from Hull, Quebec. "I'm just excited to be going home."
Brassard, who will turn 29 on Sept 22, leaves the Rangers after parts of four seasons that included a trip to the 2014 Stanley Cup final.
Last season, he scored a team-high 27 goals for the Rangers, who were eliminated in the Eastern Conference quarterfinal by the Pittsburgh Penguins.
Zibanejad, 23, skated in 81 games for Ottawa last season, registering 51 points (21 goals, 30 assists) and 18 penalty minutes. In 16 career NHL playoff games, the native of Stockholm, Sweden, has two goals and six assists.
The Rangers also agreed to terms on an entry-level deal with forward Robin Kovacs on Monday.
Kovacs, 19, played in 44 games with AIK IF of Allsvenskan in Sweden last season, registering 21 goals, 13 assists and 54 penalty minutes.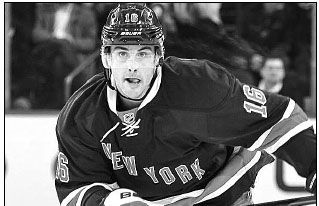 Derick Brassard will be skating for the Ottawa Senators next season after being traded by the New York Rangers on Monday.
(China Daily 07/20/2016 page23)