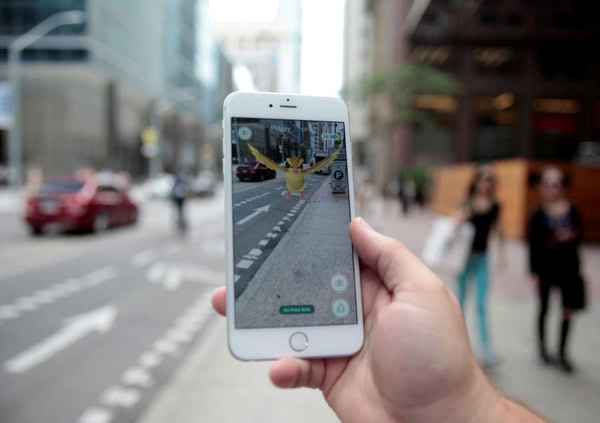 A "Pidgey" Pokemon is seen on the screen of the Pokemon Go mobile app, Nintendo's new scavenger hunt game which utilizes geo-positioning, in a photo illustration taken in downtown Toronto, Ontario, Canada July 11, 2016. [Photo/Agencies]
MELBOURNE - Victorian police and paramedics have issued strong safety warnings to Pokemon Go gamers after drivers playing the new worldwide craze have caused a spike in road accidents and near-miss collisions.
A highway patrol team in Melbourne's northern suburbs has reported several road collisions caused by motorists playing the new popular smartphone game, where gamers have to catch digital characters at real-life locations across the city.
Greensborough's highway patrol acting senior-sergeant John Sybenga said there had been a noticeable rise in road accidents caused by people who were distracted by the game.
"They appear to be attributed to the driver of the offending vehicle being distracted," Sybenga told News Corp on Wednesday.
"In several incidents, the use of a mobile telephone with the new Pokemon game was found to be the causing factor.
"(There was) a near miss in Greensborough last week where a pedestrian walked directly in front of a moving vehicle as she was preoccupied with this game."
Pokemon Go launched in Australia earlier this month, and the game has attracted hundreds of thousands of active users.
However, police have become increasingly concerned with the number of people roaming Melbourne's streets, unaware of passing traffic as they play the new popular GPS-based game. There have also been safety warnings issues for Victorians playing the game at night.
Police have urged both drivers and pedestrians to be cautious.
"Pedestrians playing this game near roads are warned to take care and be aware of their surroundings," Sybenga said on Wednesday.