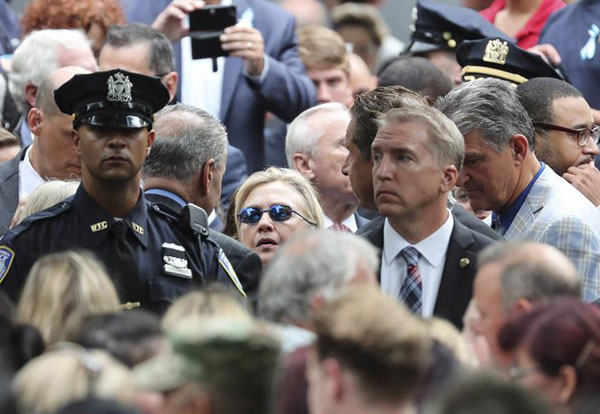 US Democratic presidential candidateHillary Clinton(C) arrives at a ceremony marking the 15th anniversary of September 11 attacks at the National 9/11 Memorial, in New York, theUnited States, on Sept. 11, 2016. The United States on Sunday commemorated the 15th anniversary of the 9/11 attacks.[Photo/Xinhua]
WASHINGTON -- As Hillary Clinton's presidential campaign was scrambling to quell speculations about the US Democratic candidate's health, a survey released on Wednesday found half of registered voters believe that Clinton gave false information about her health to the public.
Only 29 percent of voters think Clinton has given accurate information on her personal health to the public, while 50 percent think the opposite, according to the poll conducted by the Morning Consult polling company.
The share of voters who say that Clinton's health is below average or very poor increased from 26 percent in August to 41 percent now, said the survey.
Meanwhile, 37 percent of voters think Republican presidential nominee Donald Trump has given false information on his personal health to public, despite the fact that Trump was recently bogged down in controversy surrounding his brief medical report that stated that he would be the "healthiest individual ever elected to the presidency."
It was later disclosed that the doctor who wrote the only public documentation about Trump's health spent five minutes writing the report.
Clinton's campaign acknowledged on Monday it mishandled public concerns about her medical condition and said additional medical details of Clinton, 68, would soon be released.
The offer to release more medical details came after weeks of blunt refusal to do so and was the latest step for the campaign to quell long-time speculation about Clinton's health that climaxed on Sunday after she was videotaped being helped into a van while her feet appeared to be dragging on the ground.
Clinton on Sunday morning abruptly left a 9/11 memorial in New York and her campaign initially told reporters that Clinton had been "overheated."
Soon a video shot by a witness surfaced online, in which an apparently ailing Clinton struggled to steady herself and had to be helped by two Secret Service agents into her van.
About 90 minutes after the episode, Clinton emerged and waved to onlookers.
Almost five hours after the release of the video, the Clinton campaign released a statement from Clinton's physician which read that Clinton had been diagnosed with pneumonia on Friday and left the memorial after becoming dehydrated and overheated.
The Clinton campaign did not disclose the diagnosis until the episode on Sunday.
While Republicans seized on the secrecy surrounding Clinton's medical record to attack her, even Clinton's allies criticized the Clinton campaign on Monday for lack of transparency.
"Antibiotics can take care of pneumonia," wrote David Axelrod, US President Barack Obama's senior adviser on Twitter. "What's the cure for an unhealthy penchant for privacy that repeatedly creates unnecessary problems?"
Both Clinton and Trump campaigns had pledged to release more information about the nominees later this week.