Fancy a kindle? Click here to take the Long March quiz.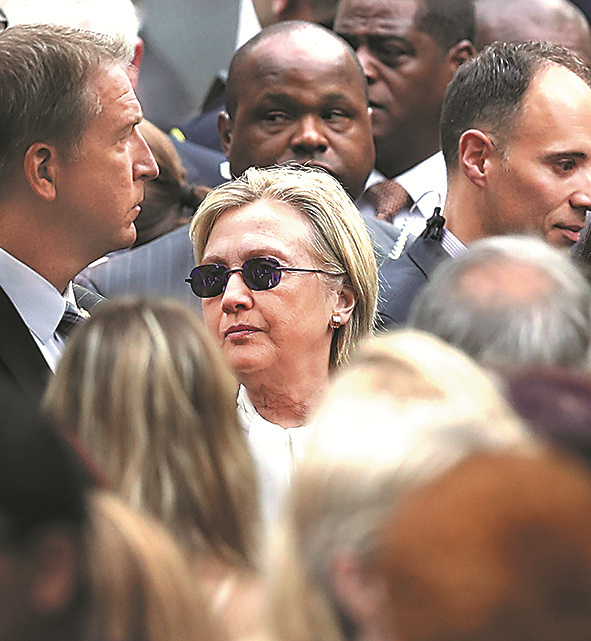 Hillary Clinton attends 9/11 memorial ceremony in New York. JUSTIN SULLIVAN / AFP
Hillary Clinton's stumbles as she left Sunday's 9/11 memorial ceremony in New York have put her health at the forefront of the US presidential campaign.
The two major party nominees are among the oldest ever and have disclosed little information about their medical histories.
Clinton "became overheated and dehydrated" at the ground zero event, her doctor said. She left after about 90 minutes, and a video of her departure shows her appearing to stumble as staff members hold her up and help her into a van.
The former secretary of state later emerged from her daughter's nearby apartment, saying she was "feeling great," and her doctor said Clinton had recently been diagnosed with pneumonia and was at home "recovering nicely".
The episode focused attention on the Democratic nominee's health with eight weeks remaining in the election, in which Republican nominee Donald Trump has tried to sow doubt about her health and fitness to serve.
Trump, who also attended Sunday's memorial, said, "I don't know anything," when asked about Clinton.
He has repeatedly questioned Clinton's health, telling supporters last month that she "lacks the mental and physical stamina" to serve as president.
It's an accusation that Clinton has tried to play off as a "wacky strategy."
Trump turned 70 in June; Clinton is 68.
Lisa Bardack, an internist who has been Clinton's personal doctor since 2001, released a letter in July last year that said Clinton was in "excellent physical condition and fit to serve as president".
Trump's gastroenterologist, Harold Bornstein, wrote a letter last year saying Trump would be "the healthiest individual ever elected to the presidency".