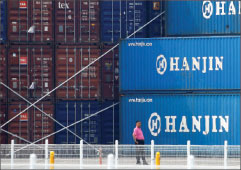 A man stands in front of shipping containers at the Hanjin Shipping container terminal at Incheon New Port in South Korea on Wednesday. CFP
Hanjin Shipping's bankruptcy has sent ripples through the maritime industry, stranding cargo and jacking up rates to Asia by as much as 50 percent.
"September is typically a peak season for ocean freight carriers because importers are advancing October orders (first week of October is Golden Week in China and all factories are closed)," Nerijus Poskus told China Daily. Poskus is director of pricing and procurement for Flexport, a freight forwarder and customs broker in San Francisco.
"Now you add that plus 7 percent reduction in capacity... it creates a perfect storm, and ocean freight carriers are able to raise prices (supply-demand imbalance)," he said, adding that one in 15 containers "from Asia to USA will need to find a new home".
The price to ship a 40-foot container from China to the US rose almost 50 percent in one day, Poskus said. The cost from China to US West Coast ports increased from $1,100 per container to as much as $1,700 a week ago, while a China-East Coast trip jumped $700 to $2,400, he said.
The industry already is struggling with overcapacity resulting from a global trade slowdown, including China's economic easing, that coincided with a boom in shipbuilding.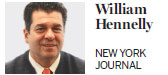 Hanjin won an interim ruling on Tuesday protecting its US assets against creditors as it reorganizes in its home country, South Korea. A US Bankruptcy Court in New Jersey asked lawyers in the case for more information before a final hearing Friday. Hanjin filed the Chapter 15 petition on Sept 2.
"There are innumerable parties that can arrest and levy on the debtor's property in the United States," the company said in its filing. "These parties include, but are not limited to, fuel provider, ship owners (where the debtor is a charterer), terminals, port pilots, trucking companies, repair vendors, rail companies, and container lessors."
Electronics giant Samsung supported Hanjin's petition, saying it has about $38 million in merchandise on two Hanjin ships off the Port of Long Beach, California, that can't dock without a US court order protecting the company against creditors trying to seize cargo.
Hanjin applied for receivership in Seoul last week. Its parent Hanjin Group said on Tuesday that it is planning to raise a total of $90.46 million on its own to fund unloading of cargo.
Hanjin Group and major shareholder Korean Air Lines will raise 60 billion won by putting up stakes in overseas terminals such as Long Beach Terminal as collateral, while Hanjin Group chairman Cho Yang-ho will raise 40 billion won from private funds, the group said.
With the company's assets frozen, Hanjin ships are being denied permission to offload or pick up containers at ports around the world over concern that tugboat pilots or stevedores won't be paid.
"Our ships can become ghost ships," Kim Ho Kyung, a manager at Hanjin Shipping's labor union, told Bloomberg. "Food and water are running down in those ships floating in international waters."
Last week, creditors led by the Korea Development Bank rejected a plan by Hanjin Group to spend $447.2 million more to rescue the shipping firm, far short of Hanjin Shipping's $5.4 billion in debts.
Chinese ports and terminals that accepted Hanjin ships before the company announced bankruptcy proceedings are charging deposits of as much as $1,800, The Wall Street Journal reported. Seven Hanjin ships were stranded outside Chinese ports.
The Seoul central district court has given Hanjin until Nov 25 to submit a plan that will determine whether it can continue operating.
In the US, "retailers' main concern is that there is millions of dollars worth of merchandise that needs to be on store shelves that could be impacted by this", the National Retail Federation said in a Sept 1 statement.
A Sept 1 Federal Maritime Commission statement said: "The Commission will be vigilant in watching for, and quick to act on, any improper behavior by other carriers and regulated parties (such as marine terminal operators, non-vessel-operating-common-carriers, and freight forwarders) that would constitute violations of the Shipping Act."
Bloomberg, The Associated Press and Reuters contributed to this story.
Contact the writer at williamhennelly@chinadailyusa.com