WASHINGTON - Questions have been raised over the health of US Democratic nominee Hillary Clinton after she suddenly fell ill on Sunday, which could become a stumbling block for the 68-year-old candidate in her presidential bid.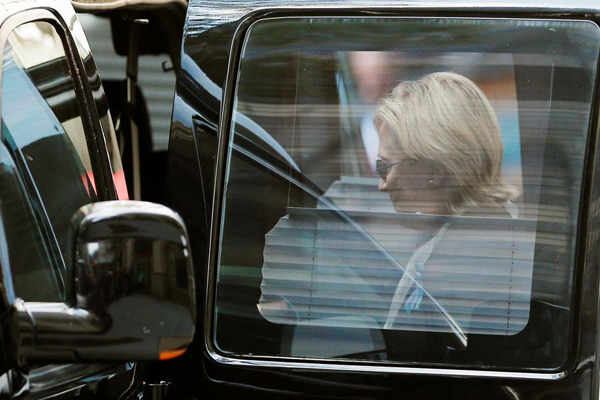 US Democratic presidential candidate Hillary Clinton climbs into her van outside her daughter Chelsea's home in New York, New York, United States September 11, 2016, after Clinton left ceremonies commemorating the 15th anniversary of the September 11 attacks feeling "overheated." [Photo/Xinhua]
Clinton nearly collapsed Sunday due to alleged pneumonia after attending the Sept. 11 ceremony in New York. While her aides said she would be back on the campaign trail in a couple of days, the incident is the latest in a string of health concerns about Clinton.
Some analysts said perceptions of Clinton's poor health may be exploited by her Republican rival Donald Trump, 70.
"There certainly are going to be more questions about Clinton's health in light of the recent incident," Brookings Institution Senior Fellow Darrell West told Xinhua.
Clinton will need to provide more information about her health and reassure voters that she is up to the job, including answering questions and releasing relevant medical records, West said.
She also can use this episode to demand more health information from Trump, who has not released his medical records either, he said.
Clinton is one of the oldest candidates to run for the White House since former President Ronald Reagan. But while Reagan's age was a factor, he used humor to deflect public concern and kept up a vigorous schedule to reassure voters.
Dan Mahaffee, an analyst with the Center for the Study of the Presidency and Congress, told Xinhua that Trump has been relatively tame in his response to Clinton's mishap on Sunday, and has largely let media coverage of the event speak for itself.
"He has carefully avoided what could be seen as gloating over Clinton's misfortune, yet allows the media narrative to vindicate some of the questions that he and his surrogates have raised about Clinton's health," Mahaffee said.
For Clinton, as the latest episode has raised concerns among the broader US public about her health, it'll be important for her to recuperate rapidly and come out strongly in the upcoming presidential debates. The first debate is slated to be held on Sept. 26.
Given Trump's age, paucity of medical records, and what appears to be a predilection towards fast food, there are legitimate concerns from medical experts about both candidates' health, Mahaffee said.
As a candidate, Clinton needs to tackle this issue with full transparency and directly address the issue, Mahaffee said.
"The perception that something is being hidden is worse than acknowledging that Clinton has fallen ill due to the recent tempo of the campaign or other factors," he said, referring to Sunday's incident, when Clinton's team appeared to try to sugar coat the issue.
While the team initially said she was overheating, the temperature Sunday was mild. And there was a 90-minute period in which there was not a word from the team on Clinton's health.
"While there is no crime per se with Clinton's health, one can apply the political rule that the cover up is worse than the crime. It only empowers conspiracy theorists and feeds the narrative of the Clintons being overly secretive," Mahaffee said.
Some analysts said both candidates can take a lesson from the 1980 presidential election, when Reagan, 69, was the oldest person to ever seek the presidency.
Reagan approached the medical issue with complete transparency during his campaign, allowing his doctors to release a wide range of medical records.
Additionally, he used lots of imagery of him being outdoors and working on his ranch to portray an image of health and strength, Mahaffee noted.