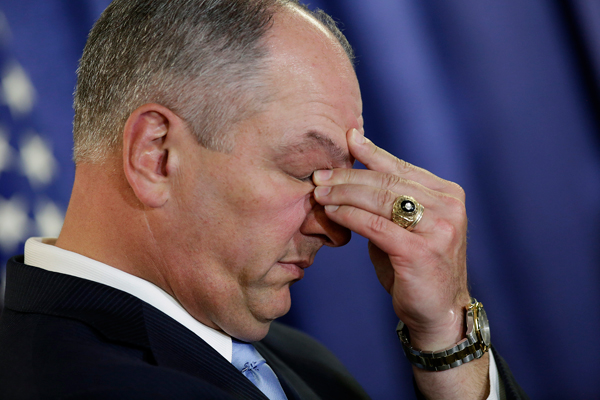 Louisiana Governor John Bel Edwards wipes away tears after speaking about three local police officers who were killed by gunman Gavin Long Sunday morning at during a news conference the Governor's Office of Homeland Security and Emergency Preparedness on July 18, 2016 in Baton Rouge, Louisiana. Long, who traveled from Kansas City, Missouri, was fatally wounded after he ambushed police officers, which left three dead and several wounded. [Photo/VCG]
The ambush rocked a city still shaken from days of angry protests and tension over the fatal police shooting on July 5 of a 37-year-old black man, Alton Sterling, who was confronted by officers while selling CDs outside a Baton Rouge convenience store. Sterling was buried just last Friday.
A day after his slaying, another black man, Philando Castile, 32, was shot to death by a policeman during a traffic stop near St. Paul, Minnesota.
The back-to-back killings reignited nationwide protests over the use of force by police against minorities, including a fateful rally in Dallas on July 7 that ended up shattered with the deadly ambush of five police officers by a gunman apparently out to avenge the deaths of Sterling and Castile.
Police declined on Monday to say whether the attack by Long, who was black, was racially motivated. Two of the lawmen killed on Sunday were white, and a third, Montrell Jackson, 32, himself was black.